Golden Yellow Ground Cover for Shade
February 26th, 2008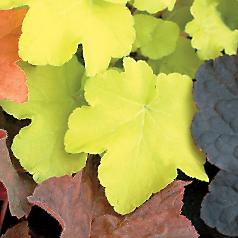 I have a beautiful laceleaf japanese maple with crimson foliage in a shady corner of my yard, and by shady I mean, really shady. It is in a corner between my shed and a large spruce, so that it literally gets 0 sun, except maybe around the Summer Equinox it might get a little. Anyways, despite having hundreds of pictures of my garden, apparently I lack even a single one of this nook that is in focus. So, I couldn't include a picture of it for this post. (I included one of my options for planting there instead, read below).
Anyways, I'm a big fan of using contrasting foliage colors when laying out my gardens, and so I've always wanted a yellow or golden ground cover (or other short plant) to go underneath the tree. The yellow ground cover would contrast with the red leaves, making them see all the more redder (making them "pop" if you will) and vice versa.
One problem with variegated or oddly-colored (not green) plants though is that their coloring can be affected by sun exposure. Some plants are green in the shade and only get their color in the sun, others have color in the shade but "green out" when exposed to sunlight.
Currently I have a few heucherella 'Sunspot' but it would appear this heucherella needs a little sun to get it's full color, as it is a drab green for me in that deep shade.
I have thought about getting a hosta, but.. in addition to contrasting foliage colors I also like to do shapes and sizes and I already have some hostas ringing that bed. Still, Hosta "Little Sunspot" looks good, and I know hostas will show their interesting color in deep shade (sun greens them out), but I'm not 100% sure about it. If anyone knows a small narrow-leaved golden yellow hosta, please comment. All the hostas around the bed currently have normal heart-shaped leaves, so a narrow-leaved one would still contrast and look good.
If it were a sunny location I would just use 'Creeping Jenny' aka moneywort aka Lysimachia nummularia 'Aurea'. This is a vibrant yellow, fast growing (almost invasive) easy to replicate, cheap, ground cover. Alas, it needs sun to achieve the right banana yellow hue I am after.
In my scan of gardening catalogies I saw a plant I've no experience with. Veronica 'Golden Halo' (picture) looks great, and apparently grows in shade, but I'm unsure if it will achieve that color in shade or if it needs a little sun. I also saw some pictures of a Veronica 'Sunshine' (picture), but some of the pictures look awfully green so I don't trust it.
Right now I'm leaning towards Heuchera 'Citronelle', it is the image pictured above at the top of this post. In my experience, heucheras receive their best color when in shade, and sunlight greens them, so, I would hope that this would be as yellow as it can be in the shade. However, heucherellas are closely related to heucheras and my experience with the heucherellas there hasn't been good.
So, before I pull the trigger and order some of these, I'm hoping I'll get some feedback from others. So please comment if you've grown any of the plants I've mentioned, or have ideas for ones I've not yet mentioned. Remember, it has to have yellow foliage, that will stay yellow in full absolute shade. Also, the spot is moist, and I am in zone 5.
Leave a Response