Butternut Squash and Powdery Mildew
October 11th, 2012
Butternut squash is absolutely my favorite crop to grow. I use it to make risotto, which is awesome, and spaetzle, which is awesome, and butternut squash soup, which is pretty good too. It is a superfood, very healthy for you, full of antioxidants and fiber… and best of all for a gardener it has a shelf left measured in months, as in more than 6. No need to eat it twice a day for 3 weeks when the harvest comes in, it'll sit good on your pantry shelf until the asparagus is up the following year.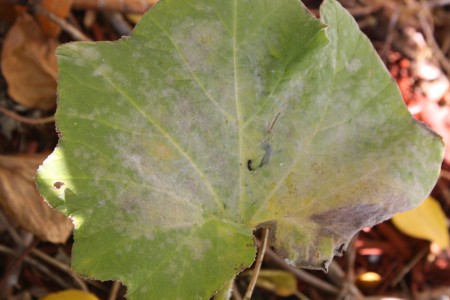 I've had problems in the past dealing with powdery mildew on my plants, as in every year. It doesn't stop me from getting yield, but it certainly reduces my yield, and that really annoys me.
This year I planted two PMR (powdery mildew resistant) varieties for the first time. I purchased two varieties from Johnny's Select Seeds, PMR Metro, and PMR JWS 6823. I planted them in various areas of my yard, along with some standard waltham butternut.
I did not have nearly as much powdery mildew this year and in years previous, though all plants still eventually became infected. I think a lot of it was from the drought, fungal infections do not spread very well in dry environments, but once we did finally get some rain I did get infections.
Normally the mildew progresses very quickly, killing leaves before the plant can replace them. On the PMR varieties this was not the case, they got infected, but it progressed very slowly, both along the plant and on individual leaves. Normally when a leaf is infected it'd go from fine to almost completely covered in the course of a day. With these new varieties it had problems conquering the entire leaf surface and I was more likely to see isolated spots.
Of the two I planted, JWS 6823 performed better and would be the one I recommend.
I've tried other things in the past to control powdery mildew. Neem oil is supposed to help, and I continue to try it, but I don't exactly run controlled experiments and it doesn't seem to work for me. I've tried organic antifungal sprays (sulfur based) and they seem like they might work, a little bit, but the fungus conquers all eventually.
I of course try to remove old plant growth in the fall, but that is hard. My growing season is so short in Michigan I often do not have the opportunity to pull the plants prior to the first frost (because squash are still maturing), and once they have been frosted the plants are so falling apart it is impossible to remove them without shedding leaf material and spores, and I cringe when I see the spores come off the plants onto the soil, but it is unavoidable.
I could practice crop rotation and stop planting the squash in the same place year after year, but I simply do not have enough room anywhere else in my yard to plant them.
Sometimes, early on, once I see infected leaves, I'll prune them and trash them to try to head it off, and that can work, but not reliably, because often the fungus will be under leaves where I can't see.
I think systemic fungicides would be the best control, but I'm not sure of any that are to be used on squash or other food crops.
But I did definitely notice a benefit from using these PMR varieties, and I will be planting JWS 6823 next year.
Leave a Response