How to Grow Butternut Squash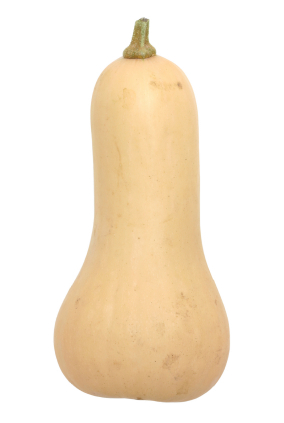 Pin It
Days to germination: 5 to 10 days
Days to harvest: 90 to 100 days
Light requirements: Full sun
Water requirements: Regular watering
Soil: Fertile and well-drained
Container: Possible in large containers
Introduction
Butternut is one of many different kinds of winter squash, with a distinctive pale yellow and pear-shaped fruit. Inside, the firm flesh is orange and distinctly sweet.
It's never eaten raw, but the the flesh can be cooked in a variety of ways once the seeds have been scooped out. Baked or roasted is the most common. Being orange inside, its no surprise that butternut squash is very high in vitamin A. You will also get potassium, vitamin C, manganese and a large dose of fiber.
Starting from Seed
Butternut squash need warm soil to germinate so you are better off starting seeds indoors, though you can also direct seed outside once the weather warms up.
Plant your seeds in larger (3″) seed pots rather than flats, with the seeds about an inch under the soil. You can plant 2 or 3 in each pot, to transplant together in hills. Keep your pots somewhere sunny and warm or they may take a long time to sprout. Get them started around 3 weeks before your last frost date.
Each butternut squash plant will produce several large squash, so you won't likely need more than 3 or 4 plants.
Transplanting
Your seedlings should go out about 2 weeks after your last frost has passed.
Dig your soil to prepare for planting and add fertilizer or compost. Choose a location that will have full sun and allow a lot of space for the vines. Each hill should have 3 feet of space around it.
If you are putting seeds straight into the garden, you'll be planting them at the same time as you would put out the transplants. They will not germinate or sprout in cold soils. Plant 4 or 5 seeds in a small hill, and thin down to 2 or 3 after they have sprouted.
Butternut can be grown upward on a fence or trellis if you don't want to have vines all through your garden. If you plan on training them up this way, you can plant your seedlings just 2 feet apart. In this case, don't plant them in little groups, but rather just one plant every 2 feet. Be prepared to add extra support when those large fruits start to grow.
Growing Instructions
Like cucumbers, squash vines will first have a round of male-only flowers come to bloom before the female ones do. So don't be alarmed if none of the first blossoms set any fruit. They aren't supposed to.
For plants growing on a trellis, you will have to take care to protect the squash as they get larger. The plant won't be able to support them up in the air on its own. Various slings or nets can be fashioned by the creative gardener. Pantyhose, old t-shirts, mesh produce bags can all be used to make a squash hammock. Just tie them to the trellis, not the vines.
As the season comes to a close, pinch off any new flowers and remove very young squash. You can help the plant divert its resources to finishing off the larger squash before winter by not letting any new ones get started.
Containers
Butternut is one of the larger winter squashes and not really ideal for container gardening. A container that is 5 gallons in size or larger would be adequate for 1 plant, though the vines will take up quite a bit more space beyond that. You can trellis container squash, but will have to make sure it is secure as the top-heavy trellis can topple over if it's just anchored by a pot of soil.
Pests and Diseases
Healthy butternut squash plants can produce many pounds of food for you, but you will need to take care of them first. They are unfortunately susceptible to a number of potential problems.
The broad leaves can be attacked by squash bugs or striped cucumber beetles. Check your plants frequently and pick them off as you find them. They can hide in the blossoms, so look there too. Insecticide sprays can usually help keep them to a minimum. A tent of mesh over your young plants can protect them, just make sure you remove it when the flowers start to bloom.
Vine borers aren't as obvious and they will eat into the stalks of the plants where you can't see them. If your plants wilt even thought they are well watered, this is likely the problem. You can use some pesticides before they strike but once they are in your squash plants there is little you can do to save the plants.
Bacterial wilt is another possible cause for wilting plants, and it spread by the cucumber beetle. The leaves closest to the infection point will start to wilt first, and the it will spread through the plant. The vines will start to get misshapen and then die outright. You can't treat wilt so pay close attention to the cucumber beetles in your garden.
One last threat is the common powdery mildew. You can get a white "powder" coating on the leaves if you get water on them every time you water the plants. Direct the water at the soil and it should prevent this from developing.
Harvest and Storage
On average, each squash will weight around 1 pound and each plant should produce 3 or 4 of them in a season.
As a winter squash, you don't generally pick butternut until it has fully matured. Summer squash like zucchini are different as they can be picked and eaten while young. Watch for your maturity date, and check the fruits with a fingernail. The skin should be tough enough that a nail won't cut into it.
A mature squash will be fine after a light frost, but its best if you can get your harvest in before your frost date. After a frost they won't store as long though they will still cook up just fine.
For squash you are using right away, you can keep them in the refrigerator for up to 2 weeks. Cooked squash can be frozen but it will lose its firm texture after you thaw it out.
To store for a longer period of time, let your squash "cure" out in the sun for a couple of dry afternoons before putting them into storage. You should be able to keep them for a few months in a cool dry place.
Leave a Response