My Favorite Daylilies
July 22nd, 2007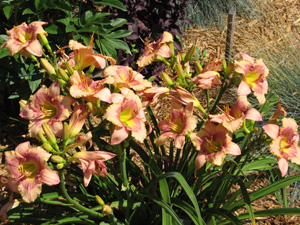 Daylilies are my favorite flowers. They are hardy, relatively disease resistant (depending on area), nearly carefree, and come in a wide variety of shapes, colors, and sizes.
There are though thousands and thousands of named varieties of daylilies, so to help you find some good ones here are my favorites:
FAVORITE OVERALL: All Fired Up
This is a great daylily with a very interesting main color and a red watermark and red edge. I find it hard to classify the main color though, it isn't quite yellow, it isn't quite orange, but it is something else entirely. This plant produces large, vibrant, flowers and can sometimes rebloom.
FAVORITE BIG REBLOOMER: Blue Ridge Shepherd Boy
I have probably over 100 daylily varieties, and not one comes closed to the bloom power of this one. I've pictured a full clump of it as the picture to this post. Small Apps daylilies such as Happy Returns bloom more, but they're small diploid daylilies, this is a large tetraploid daylily with fancy substantial blooms.
FAVORITE SMALL REBLOOMER: Happy Returns
I've mentioned Happy Returns on this blog in the past, it is a cheap, common, tireless bloomer that makes an excellent border.
FAVORITE OVERALL REBLOOMER: When My Sweetheart Returns
This doesn't bloom as much as Happy Returns, and isn't as large or substantial as Blue Ridge Shepherd Boy (considering it is diploid) but the blooms are absolutely gorgeous. A soft yellowish cream with white ribs and a pink watermark. It is an expensive daylily to plant in mass or on a border, but if you can afford to get lots of it then you can make a great statement with a mass planting.
FAVORITE BLUE DAYLILY: Crystal Blue Persuasion
The color blue is not a color daylilies easily produce. Almost all daylilies sold as "blue" are really purple, lavender, and violet. Even when shown with blue pictures the picture is usually doctored to look blue. The only daylily I've ever seen that actually has any blue in it is Crystal Blue Persuasion, and even then it can depend on the lighting and individual plant characteristics. The flowers are small and cream colored with a grape watermark and a blue eyezone. It certain light that blue can look purple, but believe me, most of the time it is a nice blueberry blue.
If not for the blue this flower would be unnoticeable. It is small, and otherwise the blooms are unremarkable, but the blue is a unique characteristic.
FAVORITE RED DAYLILY: Anzac
Like a bold red tie, sometimes a bold red flower is needed in the garden. Anzac is just such a daylily. It has large, vibrant crimson blooms and is easily picked out from a distance. There are, I know, other, probably better large red daylilies out there, but Anzac is the best among the ones I own.
FAVORITE INTERESTING COLORING: Purple Maze
Like All Fired Up this one has an interesting color base, very close to peach but a little richer and more vibrant. What really makes it stand out though is the double watermark, first cranberry, then purple. This flower is a stunner. It also has a slight edge. The only reason this one isn't my favorite is that it doesn't bloom quite as freely as All Fired Up and the flowers sometimes take awhile to open fully.
Leave a Response