A Border of Happy Returns Daylilies
June 29th, 2007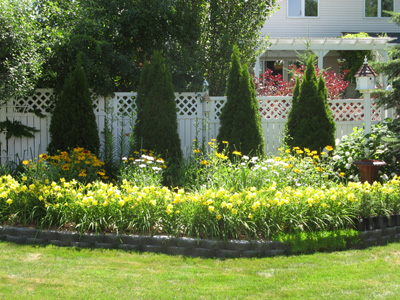 My back garden is looking great again this year and I attribute much of it to my row of "Happy Returns" daylilies. Remember, a daylily is so named because each bloom lasts only for 1 day, and yet each day this row is covered by atleast a hundred blooms, and such blooming power will last until October.
In my opinion there is no better plant with which to border a bed than a short reblooming daylily. All of the "Returns" daylies by Dr. Apps are this way. But there are others as well.
Daylilies excell as borders in my opinion for a variety of reasons. The ones I'm recommending are short, and so they do not block the view of taller plants behind them. They bloom abundantly, their grass-like foliage has a pleasant arcing form, and they're very hardy. Once established hardly anything will tweak a daylily and hinder it's bloom other than a lack of sunlight.
Some annuals might bloom more, but being annuals they'll be more fragile, have higher water requirements, and need to be repurchased yearly. Not so with daylilies.
Buying enough daylilies to do an entire border might be expensive at a conventional store, but seek out a daylily farm online, you can often get bulk discounts, I only paid $2 for each of the 30ish happy returns that make up my border.
Also, to save even more money, only buy half as much as you need and divide them the next year. They'll be small divisions sure, but they grow rapidly.
That is also one of the lasting benefits of daylilies, and other such perennials, eventually you will have extra divisions that you can plant elsewhere, sell, or give away.
I'm doing just that with my side back garden. I'm using one of the newest "Returns.." daylilies called "When my Sweetheart Returns" It is significantly more expensive than "Happy Returns" which is the second most common daylily and so is pretty cheap. At $10-$20 per plant I didn't want to buy a lot of them, so I bought 1 (and actually when I bought it is was brand new so I think it may have been $24). I pampered it and took a 8 small divisions off of it last year when I had had it for 1 year, it produced 8 new fans in that 1 year. So now I have 9 small ones. Next year the border should start to look established.
Not all daylilies are good for this purpose though. You want small, normally diploid, rebloomers. In my opinion the common "Stella de Oro" daylilies are too big for this purpose, but they'll do in a pinch. For the best results though stick to any of the daylilies with "Returns" in their name.
Leave a Response