Deadhead your Daylilies to Make More Blooms
August 3rd, 2007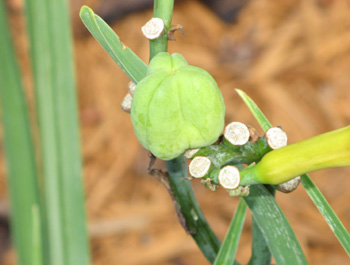 For me, July is prime daylily month, and July is now over. That means it is deadheading time.
Truth be told I deadhead constantly as I wander around the garden but this post is meant to remind others to do it, not myself.
You see, many popular daylily varieties, possibly ones in your garden right now, are rebloomers. If their scapes (those are the flower stalks) die back then they will send up new ones. However, if they do not die back, because of a seedpod for instance, no more flowers for you!
Additionally, you're letting the plant put energy into seeds you probably do not want instead of working to get bigger.
So, when you see these hard little green pumpkins on your daylilies, pick them off. You may just get more blooms. Specifically for all the millions of gardeners who grow Stella de'Oro daylilies, if you don't remove the seedpods you won't get more blooms this year.
Now, if you truly wanted the seeds you could keep the pods on and harvest the seeds when the pods split open. However daylilies are hybrids, which means their seeds will not be identical to the parent, but rather an entirely new plant, a plant that might be better than the parent, but most often isn't nearly as good. So most people don't want to save their seeds.
Leave a Response