May 18th, 2013
I previously blogged about this plant in 2009 and it just looks so good this year I wanted to blog about it again. This will be a picture heavy post.
Creeping phlox, also called carpet phlox, phlox sublata is a great typically evergreen groundcover native to the eastern US. It spreads, yet is easy to control, seems to tolerate a variety of soils and drought, and puts on a really showy display of flowers in the Spring. I originally had bought and had used ice plant as a ground cover for most of the locations where I now use phlox, and while the ice plant did flower for a longer period (nigh all summer), it eventually petered out and died (soil or climate, it was only marginally hardy here in Michigan). Phlox so far has performed much better.
My favorite way to use it, as is self evident is having it cascade down rock or brick walls, over your raised beds, making them seem as if they're a cauldron bubbling over.
I have not, however, had equal success with all cultivars or varieties of creeping phlox. I originally planted three: Emerald Pink, Emerald Blue, and Candy Stripe (white with red stripes). Emerald Pink holds its own, flowers nicely, and spreads moderately. Emerald Blue by far grows the best, flowers the most, spreads the most (though still controllable) and all told is the healthiest of the lot. Candy Stripe is a severe disappointment, it constantly exhibits signs of drought stress, barely grows, barely spreads, and in many locations has just failed. In some places I've planted these three side by side and the blue has ended up taking over while the candy stripe fades away. If you're looking to purchase a phlox, do not get Candy Stripe.
A good example of this can be found by comparing my picture from my 2009 post, with one I took just today, around 4 years later.
Creeping Phlox 2009
As you can see in 2009, on the lower tier, I had Candy Stripe on the left at the front, in the middle I had Emerald Blue, and at the right edge I had Emerald Pink. On the upper tier I had some more Candy Stripe way on the left side of the circle, then Emerald Blue, then Candy Stripe, then Emerald Pink, then Emerald Blue again. Now look at 2013:
I didn't do anything, just let the plants grow, and grow Emerald Blue did. You can see it has just taken over, the Pink is holding its own, but Candy Stripe has been left in the dust. Also notice the lilies poking up from within the phlox. Isn't that neat? It is a ground cover but it isn't going to smother other plants, so it can freely climb over them.
In the above picture, and again in the below one, you can see just how poorly the Candy Stripe grows. They were all originally planted at the same size, in both these pictures the Candy Stripe is centered and has barely grown, whereas the Emerald Blue has taken off.
I've only had two problems with this plant. One winter I had some die back, well one problem, possibly two causes. It was a very cold winter and some of the tips exposed drooping down off the bricks got zapped, I'm not sure if it was the cold though, rodents had also been chewing on stems further up the plant and that may have done it. The plant is normally evergreen though, so it became obvious when it got all brown that something had happened. It quickly recovered though, as you can tell.
All told, I still highly recommend this plant.
April 23rd, 2013
I'm being quite literal, the title of this blog post is "set your garden on fire" and I literally mean that. Burn it down. Why? Well, let me explain….
In the vegetable garden weeds are horrible, no one likes weeds, they compete with our crops. Also, unless you're practicing no-till, you're going to turn the soil every Spring to loosen it up and aerate it, giving plant roots an easier time of things. Unfortunately this soil turning brings new weed seeds to the surface, and you might particularly be susceptible because you bought a bag of questionable compost at some point that was just full of weed seeds. What you need to do is stop those weed seeds from sprouting. You could use a natural or synthetic pre-emergency herbicide, but that will also stop your vegetable seeds from growing. You can deal with the seeds after they emerge, but that can be a losing battle, so what is a good gardener to do?
Option 1 is solarization, this refers to cooking your soil with sunlight. You simply put a layer of clear plastic or glass over your garden (raised beds work best) and let the sunlight soak in. Ideally the air space in between the plastic/glass and the dirt will rise to a high temperature, high enough to kill weed seeds on the surface (while also warming the soil). This works, if you have the plastic/glass, want to mess with securing it, and get adequate sunlight early in the growing season.
Option 2 is setting your garden on fire. Different method, same result, you cook the top inch or so of soil, killing any dormant weed seeds that you just turned up. If you use raised beds and are worried about the wooden sides, don't be, the soil will keep them cool enough. Fire has the additional added benefit of potentially adding nutrients to the soil, as well as bio-char. Bio-char is a fancy word for essentially natural charcoal or carbon, as we all know from the use of activated charcoal filters charcoal bonds to other chemicals, like say nitrogen and phosphorous, holding such minerals in the soil. It is theorized the use of charcoal to create the soil called terra preta is what allowed the indigenous people of the Amazon to grow food in what is otherwise a wet desert, thousands of years later the soil is still fertile.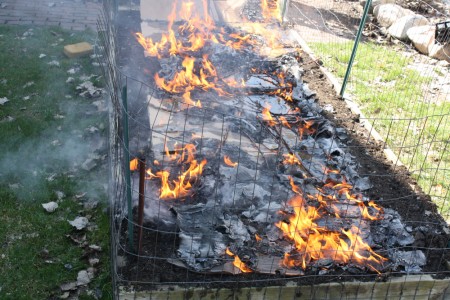 I've touched on this topic before in my fertilizer from the ocean post where I mention taking the used activated charcoal from aquarium filters (now blissfully bonded to nitrogen) as a soil amendment. There are lots of bio-char advocates out there who would have you build hardwood fires in your garden every year and till the resulting charcoal into the soil, and indeed you can do that, though it is more work than I have in mind.
Of course, there are some minor PH issues with ashes, but it is a small amount and I'm not wholly concerned with it, and it can be corrected easily if you discover a problem.
So, what I did this weekend is first amend my soil. Last fall I emptied out my compost tumblers (link is the model I have), and put that in the garden, so I didn't add more compost this Spring, instead I added fish bone meal (also mentioned in my fertilizer from the sea post) and azomite, which is a mineral amendment. I would have also added some nitrogen fertilizer in the form of blood meal or fish emulsion, but I didn't have any. I then work it into the soil and turned the soil over to looser it up, and raked it smooth. Next step was to put down a layer of corrugated cardboard, on top of this I tossed a bunch of wrinkled newspaper, some various dry sticks, twigs, and leaves lying around, and on top of it all I poured about a gallon of used vegetable oil from my deep fryer (the oil helps it to burn longer/better).
You can't really light this well with a match, the cardboard is in direct contact with soil and needs more than that it get it really going. I used a propane torch which I got for Christmas, and it is an excellent gardening tool. Imagine, weeding with fire instead of chemicals? I wanted it specifically for this garden prep application but it is a multitasker. This sucker gets hot and sounds like a jet engine. In addition to lighting the top of the pile, I was able to direct the flame underneath the layer of cardboard, superheating the air between the cardboard and the soil and creating combustion, that really got it going, and probably 95% of the flammable materials burned up. So I consider it quite successful.
Now, this did not produce a lot of charcoal, so the bio-char value is limited, but I wasn't going to re-till the soil (thus bringing up more weed seeds) to work any big pieces of charcoal in, otherwise I would have added more large wood pieces. I do put charcoal I produce in my fireplaces etc into my composters. If you want to experiment more with charcoal and bio-char, the best way is to collect a bucket of it, then pee into the bucket. This way, you're pre-seasoning the charcoal with nitrogen, rather than have it pull it from the garden once you add it to the garden.
I'll update this post if I notice a reduction of weeds this season, but I think it was successful, it got really really hot.
When I was done and it was cool I planted carrots, lettuce, kale, beets, and spinach. Gardening has begun (hopefully).
I used this to prep my vegetable garden, but it also works to clean out an ornamental garden if you take over one that has been neglected, gone to weeds, and you just want a blank slate.
PS. It goes without saying, fire is dangerous, be careful, keep a hose handy, possibly wet down the areas around your garden, don't do this in dry conditions, and check to see if you need any sort of permit.
April 16th, 2013
One of the tasks a gardener must do yearly, or more often, is clean up the garden. In the ornamental garden you'll have old dead perennials that must be cut down and dealt with to make room for the new season's growth.
In the past I've used a lawnmower for this, it can be hard getting it up into the bed, and it is an indiscriminate shredder, and it does go low to the ground sometimes impacting green foliage, but in the fall, before the snow blankets everything, it is a decent tool. It also finely chops up everything into mulch onto the bed itself.
In Spring I do not like it as much, simply because some things might already be growing. Also, I'm not sure it is good for the lawnmower itself to be attacking somewhat woody perennials.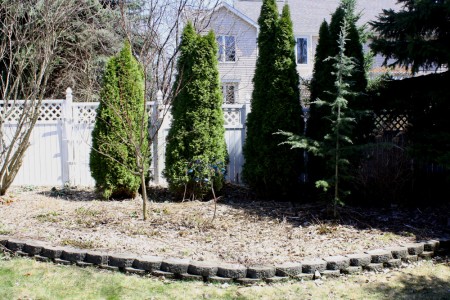 Right now, in my hard, almost nothing is happening. We've had such a cold Spring nothing really has started yet except crocuses, this time last year all the flowering trees had already flowered (and then had the flowers zapped by a frost) this year, nothing… which is good in the end I think, I'd rather have things flower late than flower early and be killed (I didn't get a single pear last year

).
So, not much gardening to do, not much to blog about, but I did last weekend when it finally wasn't either snowing or raining clean up my back ornamental garden. There were lots of remnants of daisies and daylilies and lilies and rudbeckia and others that needed trimming, I didn't use my lawn mower though, I brought out my favorite weed chopping tool.
I call it a weed whacker, that is not the technical name for it though, I guess. The manufacturer calls it a serrated grass whip. To me it is such an invaluable tool, my parents had one growing up and we used it all the time to clear brush, but I couldn't find it at any local gardening stores and had to get it at Amazon.
It easily shreds anything left standing, and is great for cutting down remnants of the garden in either Fall or Spring. You can even cut down old ornamental grasses with it. Definitely a tool that should be in every gardener's shed. With the remnants, depending on length, once cut you can let them lie as they fall, to become mulch for the garden, or carry them off for composting if perhaps there is too much or the pieces are too large (such as the case with ornamental grass).
January 26th, 2013
I've blogged about kale a lot here, I really like it as a crop. It is a super food, incredibly healthy, and easily tucked into many many dishes. It is also easy to grow, and easy to harvest all summer long just a few leaves at a time. It also lasts through some serious cold weather, down into the 20s at least. Maybe, when I move south to Chattanooga, I'll be able to grow it all year round (in my future greenhouse at least) but here in Michigan I can't. So, in the cold winter months, if I want to eat it I need to store it somehow, and for kale I think the best method for storing is freezing.
As an example of what happens to kale when it is frozen you can look out into your frozen garden and see it brown and shriveled and not very delicious looking. That will happen too in your freezer if you don't follow the correct steps. You cannot simply toss kale in your freezer and have it last, some small prep work is involved.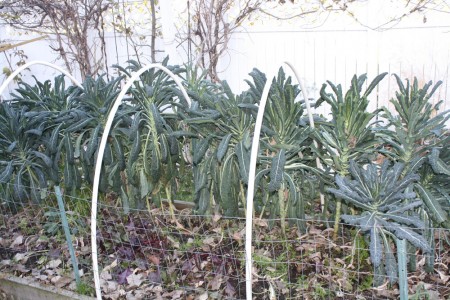 So, in perhaps October or November, after you've had some frosts but it hasn't gotten deep into the 20s yet and the kale is still green, harvest what is remaining and process it for storage.
First of all you should process the kale to be in the form of which you want to use. In my case that is chopped up. Once it is frozen if you want to chop it up it is much more difficult, and messy, for rather obvious reasons. If you pre-chop it you can just go from the freezer bag to the fire (crock pot, saute pan, stock pot, etc), which is much easier when you're actually cooking.
The next step is to blanch it. Plants contain enzymes that break them down, they are what turn plant materials brown in your winter garden, which is not what you want to happen in your freezer. Blanching, putting the plant material in boiling water briefly, deactivates these enzymes and allows the kale to stay fresh and green in storage. Most vegetables need to be blanched before storing, no matter what your storing method, be it canning, freezing, or dehydrating.
To blanch kale bring a large pot of water to a boil and put the chopped kale in in batches for 3 minutes each. Then, because you don't want to keep cooking the plant, remove it (a handled "spider" strainer is the perfect tool for this, you should own one) and put it in a bowl of ice water to stop the cooking process.
Continue processing your chopped kale like this until it has all had a turn in the boiling water. The next step will be to remove as much of the moisture as possible from the kale. Put the blanched kale in a strainer suspended over a bowl, I then like to put a second smaller strainer inside the first and weight it down, to press as much water as possible out of the kale. You can also get hands-on with this task and literally grab hand fulls of kale and squeeze them like a sponge to get the water out. There is no set threshold for how much water to remove, but in the future when you're cooking you want to be adding kale to your soups, not water, and the more water left in the kale the more ice crystals will form which could shred any remaining texture.
Once the kale is sufficiently drained you should portion it into meal sized portions. You should know approximately how much you add to soup or stir fry or sloppy joes or taco meat when you make these meals, and put that much in a bag. Typically somewhere between 1 and 2 cups. Squeeze as much air out of the zip top bag as you can, and seal it shut. I then like to put these smaller bags in a larger one that I then label and at this point you can toss it in the freezer.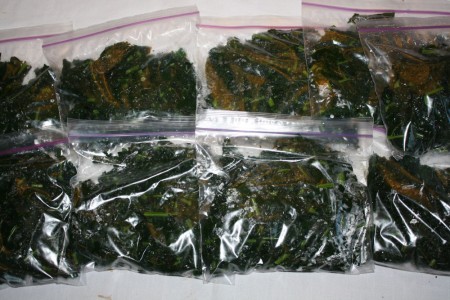 The kale will last many months in the freezer, at least until your crop comes in again early next summer, assuming you do not eat it all first.
I really like summer because growing so many foods and herbs myself it is easy to tuck small amounts of them here and there into dishes I cook, providing added nutrition to my family, and using preservation methods like this there is no reason why such practices cannot continue in the winter when my garden is covered with snow.
January 19th, 2013
I recently reorganized my pantry to make more room for canned goods. This left me with an issue in regards to my winter squash.
I can put up, maybe 30 a year in the fall with my current small city lot. I was putty them on shelves but they take up a lot of shelf space, and I would lose a few to rot. Also, as I eat them, the shelf space empties out, but I can't put anything long term there, and organized it, because the space the squash use is variable and changes constantly. I couldn't put in a can rack, I'd have to expand it as I ate the squash and then remove it entirely next fall and find someone else for the goods. It wasn't very efficient.
I think I hit upon an ideal solution for storing this vegetable. Nylon mesh bags hung from rafters in my basement. I merely put eye bolts through my rafters, then filled up a nylon mesh bag (used to store athletic equipment in my case) and hung it from the eye bolt with a carabiner.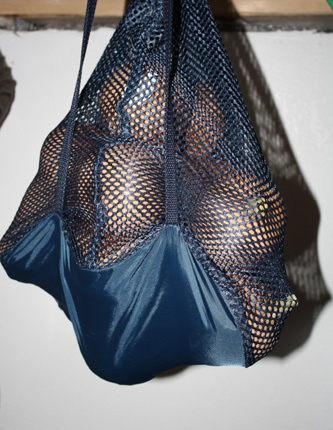 Great airflow around it, easy to take up or put down as I need more space and the bag (which I hope one day are bags as I get more land to grow more) folds up to almost nothing for storage when not in use, and it doesn't take up any shelf space. I bought a bag to use, if you had really strong produce bags you might be able to use them but 10 or so squash weigh a lot, and you wouldn't want it to break and fall. They make small nylon mesh bags, and ones big enough to hold like 10 basketballs. I went with a medium size one, I didn't want too big because of the weight issue.
In a perfect world I'd put up around 52 squash a year, so I can make risotto once per week, perhaps 104 when my kids get older and eat more. I think this bag system would more than easily handle it, of course I don't have the land to grow that much yet, but when I do I'll have more house to hang them up in as well. It would probably work for sweet potatoes too. Basements typically are also slightly cooler so they will aid in preservation and properly stored you can see winter squash last a full year. For curing they could be hunt up elsewhere in a warmer area such as a southern window, outdoors, in a greenhouse, by a fireplace, etc. for a couple weeks before being transitioned to a basement for long term storage.
January 7th, 2013
More true tales of government run amok.
As a proponent of gardening, gardening in your yard, and yes, even in your front yard I've mentioned numerous times on this blog how I think front yard farming is the thing to do. I won't write long on the topic yet again, but rather merely summarize. Lawns use a lot of water, lawns use a lot of fertilizer, lawns produce no edible food, and you have to mow your lawn. A garden, on the other hand, uses less water, less fertilizer, give honey bees something to eat, and it gives us something to eat too.
But cities run by big government bureaucrats nationwide have idiotic ordinances requiring you to plant a lawn. The silly thing is these stooges would profess to care about the environment and all the rest, ask them if we should do something about global warming (erm climate change, right?) they'd say yes. Ask if carbon footprints are bad they'd say yes. They probably drive priuses and have no qualms promoting their municipal recycling programs – and yet they'll be lawn nazis. These are the types of people I like to avoid in real life, people who don't bother learning the science or facts of anything and instead just blindly join causes or ideals and are too dense to realize two of their "beliefs" are at odds with each other.
This happened in 2011 in Detroit as I blogged about here. Now it is happening in Orlando (and it has surely happened all over the country).
From the Daily Caller (worth the read), a couple that own a sustainability consulting business planted a garden in their front yard. They use it to educate their neighbors, the public, kids, etc on sustainability. Everyone nearby loves it, except the city, which has threatened a $500 a day fine.
I learned of the link via The Institute for Justice, who are pretty much my favorite people. They're a public interest law firm that champions the rights of the little guy over government run amok. People like food truck owners, street vendors, scores and scores of small businesses, immigrants trying to make it, or just private citizens trying to do good things (like gardening perhaps) and running afoul of the law. They took the famous Kelo vs. New London case to the Supreme Court, and lost (in the worst decision in decades in my opinion) the battle, but won the war, when people nationwide were so outraged that I think 49 states passed constitutional amendments making the practice the Supreme Court okayed illegal. I don't know if they plan to get involved in this case, but I hope the couple involved gets good free legal help from someone like IJ who will kick some butt for the right to garden your own land.
In this case the couple, Jason and Jennifer Helvenston, have started an awareness campaign and ask this:
We are asking residents in Orlando and across the country to join our campaign to "Plant a Seed, Change a Law." E-mail patriotgarden@gmail.com, and we will send you a free packet of seeds and a small sign for your front yard that says "Patriot Garden." Then send us a picture of your front-yard Patriot Garden. Help us tell the City of Orlando and local governments everywhere: Hands off our food!

They also have a website about the issue, visit Patriot-Gardens.com.
Say it with me now "Gardening is not a crime." Though perhaps I should thank the idiotic government in Orlando for giving me something to blog about when my garden is covered in snow.
December 8th, 2012
I love my hardy kiwi vine. Well, no, I take that back. I have a love/hate relationship with my hardy kiwi vine.
I love the fruit it produces. Hardy kiwis produce little smooth-skin grape sized fruit you eat skin and all, they're more nutritious than the fuzzy-skinned kiwis you find most often in grocery stores that we're all familiar with, they're delicious, and can easily be preserved in the form of jam. I make a nice strawberry/kiwi jam that is actually my favorite jam for buttered toast.
I hate the vine's poor resistance to late Spring frosts. Every other year I get no kiwi because a late Spring frost zapped all the fruit producing buds.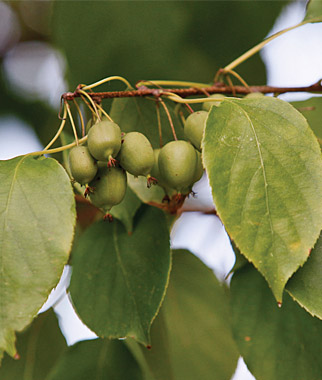 When I bought my vines, way back in 2004, it was not as popular a plant as it has become, it was not as widely available, and I quite frankly had no idea there was a better variety out there. Later I learned there was a better variety out there, called "Michigan State" hybridized at Michigan State University, which is a mere mile from my house. One of my biggest gardening regrets is not tracking down this variety when I planted my kiwi vines. It would surely be more perfectly suited to my weather. How often can you buy some cultivar developed for so precisely your climate? Of course it wasn't widely available for sale back then, but that is besides the point.
Why not just buy it now? Well, I'm moving in 2015, it is known, and I wouldn't be here to see the vine fruit. Plus, I'm out of room.
You however, you can buy it. For the very first time that I know of this plant is available from a major national distributor, Burpee. They have the Michigan State Kiwi in their new for 2013 collection. New plants typically sell out, so if you were interested I would order soon.
I do highly recommend hardy kiwis for backyard plantings. They grow well, are attractive to look at, have no pest or disease problems as far as I know (and mine have never been hit by anything), and give you nice tasty fruit in the fall. The only problem is the frost hardiness, which this cultivar deals with. A win all around. I will be planting it again at my new house when I move in 2015.
November 19th, 2012
The best time to prune most deciduous trees is in winter, this is true for a variety of reasons, it is easier to see the branches when the leaves are gone, the cuts can heal better, there is lower insect and disease levels so there is a lower risk of infection. However the biggest reason is that you're saving the tree's energy.
Deciduous trees store their energy, their food, in sap, which during the warm months is up among the limbs and leaves feeding new growth. When temperatures drop the trees send the sap down into their roots for winter storage. This is how we can get maple syrup from tapping trees, during transitional weather the sap goes down into the roots at night when it gets cold, and then flows up into the tree during warmer days, and it is this flow that maple syrup producers intercept.
So when you prune a deciduous tree during active growing time you're taking not only the limb, but all the sap stored within it, and that stresses the tree more, like a human losing blood, the tree is anemic for lack of a better word.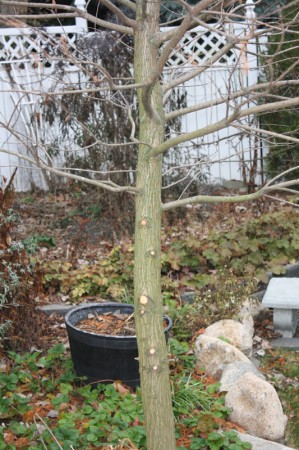 By waiting until winter when all the sap is stored in the roots you don't impact the trees health nearly as much, and when spring comes and the tree sends the sap back up and finds it has fewer limbs to feed, that sap will go to fuel an extra large burst of new spring growth.
I recently pruned my bald cypress, the very best time to prune is late winter but I did it now because I was worried I would forget. Bald cypress, remember, despite being a conifer, is deciduous, one of the few (lovely) deciduous conifers. I'm limbing it up to provide more sunlight to the strawberries I have planted beneath it, but also to show off the trunk, which is one of the most attractive features of the tree as it ages. By pruning it now, I'm making sure I'm providing it all the fuel it needs to get bigger (taller, thicker trunk) come spring, which is my ultimate goal.
Evergreen trees are different, if you want to maintain the shape of the tree pruning needs to be done specifically to the new growth in mid summer, but if you're doing more severe pruning, such as limbing up, that can be done in winter as well. Fruiting trees have special considerations for maximizing fruit production, though generally also are best pruned in winter, the same with flowering trees.
October 11th, 2012
Butternut squash is absolutely my favorite crop to grow. I use it to make risotto, which is awesome, and spaetzle, which is awesome, and butternut squash soup, which is pretty good too. It is a superfood, very healthy for you, full of antioxidants and fiber… and best of all for a gardener it has a shelf left measured in months, as in more than 6. No need to eat it twice a day for 3 weeks when the harvest comes in, it'll sit good on your pantry shelf until the asparagus is up the following year.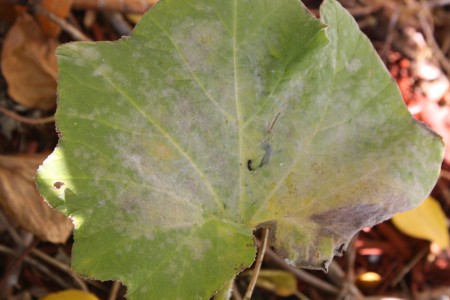 I've had problems in the past dealing with powdery mildew on my plants, as in every year. It doesn't stop me from getting yield, but it certainly reduces my yield, and that really annoys me.
This year I planted two PMR (powdery mildew resistant) varieties for the first time. I purchased two varieties from Johnny's Select Seeds, PMR Metro, and PMR JWS 6823. I planted them in various areas of my yard, along with some standard waltham butternut.
I did not have nearly as much powdery mildew this year and in years previous, though all plants still eventually became infected. I think a lot of it was from the drought, fungal infections do not spread very well in dry environments, but once we did finally get some rain I did get infections.
Normally the mildew progresses very quickly, killing leaves before the plant can replace them. On the PMR varieties this was not the case, they got infected, but it progressed very slowly, both along the plant and on individual leaves. Normally when a leaf is infected it'd go from fine to almost completely covered in the course of a day. With these new varieties it had problems conquering the entire leaf surface and I was more likely to see isolated spots.
Of the two I planted, JWS 6823 performed better and would be the one I recommend.
I've tried other things in the past to control powdery mildew. Neem oil is supposed to help, and I continue to try it, but I don't exactly run controlled experiments and it doesn't seem to work for me. I've tried organic antifungal sprays (sulfur based) and they seem like they might work, a little bit, but the fungus conquers all eventually.
I of course try to remove old plant growth in the fall, but that is hard. My growing season is so short in Michigan I often do not have the opportunity to pull the plants prior to the first frost (because squash are still maturing), and once they have been frosted the plants are so falling apart it is impossible to remove them without shedding leaf material and spores, and I cringe when I see the spores come off the plants onto the soil, but it is unavoidable.
I could practice crop rotation and stop planting the squash in the same place year after year, but I simply do not have enough room anywhere else in my yard to plant them.
Sometimes, early on, once I see infected leaves, I'll prune them and trash them to try to head it off, and that can work, but not reliably, because often the fungus will be under leaves where I can't see.
I think systemic fungicides would be the best control, but I'm not sure of any that are to be used on squash or other food crops.
But I did definitely notice a benefit from using these PMR varieties, and I will be planting JWS 6823 next year.
August 29th, 2012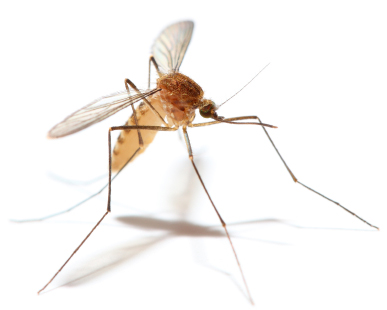 With West Nile virus in the news I'm sure I'm not the only one thinking about mosquito control. Even though where I personally live we've had a significant drought and the lowest bug summer I can remember, there has still be one West Nile case in my county and with little kids I do worry, I'm sure other parents are in the same boat. Parent is latin for worrier.
There are two ways you can go about this problem, stop them from breeding and living in your yard, or killing them once they inhabit your yard.
Stopping Mosquito Breeding
Most, but not all, mosquitoes need stagnant water to breed, and most mosquitoes stay around where they were born, so the easiest way to keep them out of your yard is to make it an unattractive for them to breed there. The easiest way to do this is after it rains, or after you use sprinklers and hoses, and thoroughly go around your property and empty any container containing water, but you do have to be thorough. Mosquitoes like water that sits for 4 or 5 days, but they can breed in as little as a tablespoon of water, as little as a bottle cap full, so you must be very thorough.
Places often forgotten about are the insides of old tires, all the various nooks and crevices in children's toys, and gutters. If your gutters are not clean and water sits in them over time, that is prime mosquito territory. So clean your gutters, or use gutter guards.
What about places you keep water on purpose? Keep your pool and hot tub chlorinated and they will be fine. Your bird bath needs to have water changed regularly, you can also place agitators in your bird bath to keep the mosquitoes at bay. Your ponds or water features need to be well stocked with fish, and the fish will deal with the mosquitoes. If they aren't, you need to add something that will kill them, such as mosquito dunks which are this bacteria that kills mosquito larvae in water, but doesn't harm anything else, a good product. If you have a rain barrel make sure it is fitted with a secure mesh opening that prevents any bug entrance, and you can also use the mosquito dunks in it as well.
So remove the water you do not want, and maintain the water you do want, and you should be okay. But what if you get mosquitoes anyways?
How to control mosquitoes in your yard
Lets talk about bats, man. Bats eat mosquitoes. Of course, we humans dislike bats for a variety of reasons, fears of disease which are often unfounded, dracula mythology, being creeped out by nocturnal flying mammals, whatever. I'm not asking that you invite bats into your home, by all means, make sure your attic is secure, but providing them habitat in the form of a bat house somewhere on your property might not be a bad idea. Sure, there is no guarantee they will eat in your yard and not your neighbors, will eat mosquitoes instead of other bugs, but more bats should, in the grand scheme, equal less mosquitoes. Also, you can collect the droppings from underneath to fertilize your garden.
If bats aren't your thing, how about birds? Attract birds that eat mosquitoes to your yard. The most well known bird that does this is the purple martin, but the popular marketing associated with the purple martin houses you see for sale appears to be incorrect. Martins do eat mosquitoes, but not an overly large amount of them. There are however other birds such as swallows and chickadees that will eat flying insects as well. So make your yard bird friendly.
Topically this reminds me well of snakes. Many people hate snakes and shudder to think of snakes being in their garden, but snakes will not eat your plants, dig holes, pull up bulbs, eat roots, destructively tunnel, etc. Rodents do all those things, and snakes eat rodents. So, like bats, snakes are a creature with a bad reputation that actually help your garden.
Moving on, there is a mechanical control you can use. The famous mosquito magnet does indeed work. Mosquitoes are attracted to CO2 and the devices uses propane and an attractant to generate CO2 and then pull the mosquitoes into a trap. It works, it can be effective for small areas, but it is expensive, both to buy and to keep running.
Light attracting bug traps or zappers do not work for mosquitoes, mosquitoes are not attracted to light. Those things will kill lots of other bugs (few of which are harmful to humans) but they are not effective against mosquitoes.
Finally, you can go the insecticide route. The best product for that is a fogger. Foggers come in many different types and they spray a cloud of insecticide, easily filling up an area. I've seen someone fog (with a cordless one) an area half the size of a football field in about 5 minutes. The fog disperses, leaving dead insects everywhere. These will kill indiscriminately, any bug flying around, not just mosquitoes. I'm all for saving wild life and using organic products, but I'm also all for not having a loved one die from West Nile virus. When you absolutely have to kill every mother biting mosquito in the room, accept no substitutes. Foggers kill so well that you can actually use your outdoor space after using one, for days even, it will have killed so many bugs you'll only have to use it again when new bugs move in.
I've been lucky (cursed?) with the lack of rain this year, and we don't have many mosquitoes now, but if you live in one of the areas where there is an outbreak maybe one of the above options will help you.