How to Grow Rose Hips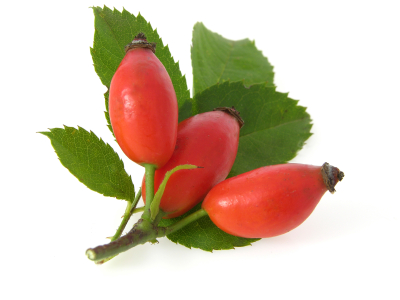 Pin It
Days to germination: Usually grown from seedlings
Days to harvest: Full harvest in second year
Light requirements: Full sun
Water requirements: Water during dry weather
Soil: Light sandy soil
Container: Yes
Introduction
Rose hips are simply the seed pods of the rose plant. They aren't a kind of plant themselves. The hips are the "fruit" of the rose plant, looking somewhat like a tiny crab apple or cherry, and full of seeds.
For the best hips, plant a Rugosa variety of rose. Rugosa roses are known to spread, and are frequently grown as a decorative hedge. They're perennials, and will keep growing year after year between zones 4 to 7.
One of the great things about growing rose hips, is that you can enjoy the beautiful flowers all summer long before you have to harvest your hips. They're a perfect "crop" for the flower garden.
Though Rugosa produces the best hips, other varieties of roses do as well. A basic guideline is that hips won't form on roses that produce blooms with tightly packed petals, like tea roses. Rugosas come in white, red and many shades of pink.
They are not used for many culinary purposes, mainly to add a hint of tangy sweetness to teas and jellies. They also contain a large amount of vitamin C. On average, rose hips have 20 times more C in them than oranges do.
Transplanting
Home gardeners don't start roses from seed, you buy cuttings or seedlings.
Choose a location that will get a lot of sun, and can handle the plants growing to a height close to 5 feet. Rugosa roses will grow into a very dense and thorny shrub, so don't plan on using it too close to any walkways or paths. Brushing up against the rose bush can be unpleasant and prickly.
Dig a hole large enough for the roots of your rose seedling, and plant it to the same depth as it was in its original pot. You don't need to add any compost or fertilizer, but give it a generous watering.
Growing Instructions
Rugosa roses are extremely hardy, and are known to grow in the wild in the most inhospitable places. Water it regularly until it starts to produce new growth and get established. Once growing well, you should only need to water it during a drought.
To get the hips to form, you have to leave your dead rose blossoms on the bush. It may not look that attractive but it's necessary to let the plant produce its fruit. You really need to keep this in mind when your roses are in full bloom. If you're growing them for the hips, you cannot cut the flowers to bring inside. Just enjoy them on the plant.
There are several fertilizer products on the market designed particularly for roses. A feeding with these each season will keep your plants strong, though it not strictly necessary.
Containers
Though they can grow into large shrubs, you can certainly grow roses in containers. You will need a large pot, 5 to 10 gallons in size for each rose bush. Water a potted rose a little more often than a garden-planted one, but don't let it get water-logged. Your container should have very good drainage.
Use regular soil without added compost, and even add a little sand to help with draining.
Pests and Diseases
Once the flowers die back, the birds are going to be as interested in the hips as you are. The prickly plants are naturally protected from such pests, but you can still lose a lot of your harvest to determined birds. Cover your roses with netting, or mount a fake owl nearby to scare off the birds.
The leaves of your rose plants can be attacked by June beetles or Japanese beetles. You can handpick them off whenever you see them, or spray with insecticidal soap.
Roses can also suffer from stem canker, a fungus that usually attacks the stems but can also effect the flowers. You will first notice brown or reddish patches on the stems of your roses, that eventually dry out and leave a shrunken lesion on the branch. If it goes all the way around the stem, the branch will die off above that point.
Fungicides can help, and you can help prevent it with a bit of care. Prune out any dead branches in the shrub and try to remove any that are rubbing against each other. If you do water your roses, do so at the soil not over the leaves. The water will spread the fungus spores.
Whether you are using fungicide or pesticide, make sure you get one intended for edible plants. Buying products for roses may make your hips toxic because the sprays are not formulated for "food plants". Any products that are labeled for vegetables or fruits will work fine.
Harvest and Storage
Your plants will likely produce some small hips even after the first season, but they won't be a full crop of them until the second year.
Roses will bloom (and therefore produce hips) on the outside of the shrub, so you shouldn't have to reach in between the prickly branches to snip off the hips. Even so, it's a good idea to wear gloves at harvest time.
Most rose hips will be ripe for picking just after the first frost. Orange hips are not quite ripe, but deep red ones are over-ripe. You have to judge the right color in between to get the highest levels of vitamin C. They should be just slightly soft, not mushy.
Use clippers to snip the rose hips off each stem. Spread them out in the sun and let them dry until you notice their skins starting to wrinkle up slightly. You need to slice each hip in half, and scrape out the little seeds. Once the seeds are out, leave the hips to dry out completely.
After they are dried, you can store them in the refrigerator for several months. If you freeze them, they will keep for a year or longer.
Leave a Response