How to Grow Quinces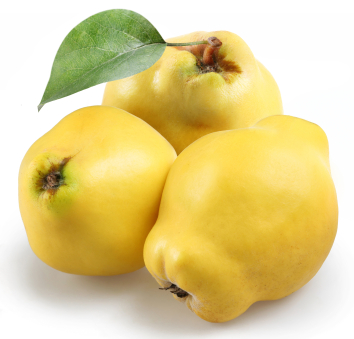 Pin It
Days to germination: Trees are started from saplings
Days to harvest: 3 years
Light requirements: Full sun
Water requirements: Regular watering
Soil: Fertile soil, even with clay
Container: Somewhat suitable
Introduction
The quince is closely related to both the apple and the pear, and has a fruit that does look like a combination of the two though noticeably larger than either. A quince fruit can easily reach 6 inches in length.
The fruit is much more common through South America, Europe and the Middle East than it is in North America. You can grow quince between zones 4 and 9, as they can tolerate freezing temperatures during the winters as long as the flowers aren't hit with a late hard frost.
Quince fruit is very tart and sour even when mature, and is seldom eaten raw though it does sweeten up if left to get soft after picking. Cooked dishes as well as jams and marmalades are the more common uses for quinces. They are high in fiber, vitamin C, antioxidants and magnesium.
Starting your Tree
When buying a quince sapling, take care not to just buy a flowering quince. They are bred for their spring blossoms and won't produce a reliable crop of fruit. You need to get a quince variety that is intended for fruit production, such as Champion, Cooke's Jumbo or Giant of Zagreb.
Choose an open location that can accommodate a 20-foot high tree at maturity. The crown will also be about 15-feet across once it reaches full size. The soil should be loose but a quince tree can tolerate having wet roots so even a location with poor drainage may suit.
The quince is a self-fertile plant, so you will get a crop of fruit even if you only plant one. Trees will produce more fruit if they have been cross-pollinated with at least one other tree though.
Tree Care
Quince trees aren't huge, and thankfully won't need all that much pruning to keep them in fruit-growing shape. The branches naturally grow spread apart without a lot of crowding. Each spring, before the new growth starts, prune out any dead branches and any that have grown to the point where they are rubbing on another branch (only 1 of 2 crossed branches should be cut off).
During the first year or two, cut back much of the new growth in the spring, keeping the tree down to 4 or 5 main branches. This will help get the roots established and create a good foundation for future branch growth. After that, you can let it grow as it pleases.
You can fertilize your tree each year but only with a low-nitrogen mix, or you will severely reduce your fruit production. Water your trees whenever you have a dry spell in the weather. They are not bothered by water-logged soil so there is little risk of over-watering quince trees.
Containers
Since quince have naturally shallow roots, they may survive fine in large containers (at least a half-barrel in size). True dwarf quinces are not common since the tree is naturally quite small, compared to many other fruit trees.
If constrained to a pot, quinces may grow as a bush rather than a true tree.
Pests and Diseases
The biggest disease threat to quince trees is fire blight, which also effects apple and pear trees. It primarily attacks the new buds each spring, and they turn black and die off. You can usually see a brown seeping in any infected twigs.
It can be difficult to get rid of, but if you cut away infected branches immediately, it can help. Blight usually doesn't kill the tree right away, so you may have a year or two to combat it without losing the tree. The next spring, spray the trees with a Bordeaux spray to keep the bacteria out of the new buds.
Apples and pears have blight-resistant varieties, but there really isn't any such thing for quinces. With a little perseverance, you can usually overcome the disease though it may be a constant battle if its a problem in your area.
Besides diseases like blight, the quince is actually relatively free from other pest problems. There are no specific insects that target these plants, though any leaf-eating beetle or caterpillar can do damage in the leaves. If you see the silky "tents" of the tent caterpillar, either cut the branches off or burn away the webbing to keep the caterpillars from doing extensive damage to the leaves when they emerge.
Harvest and Storage
Quinces will get softer after the first frost, but they also damage easier during picking so most people try to harvest their mature quinces before that. If they are going to be cooked anyway, most will pick them before the frost just to make picking easier. For raw eating, after the frost will work better. Not only will they be softer, but sweeter as well.
Since the fruit is hard at maturity, the best way to tell when its ready to pick is the color. Quince should be a uniform light yellow color when picked. If you pick quinces before they are mature, they will not ripen or soften further so there is really no point picking young fruit.
Hard quinces will store in the fridge for a week or two, but their strong smell can make everything else smell like a quince. If you have a spare fridge, you might want to store your fruit there. Otherwise you might want to keep them in a tightly sealed plastic bag, which can hasten their spoiling due to moisture build-up so you should add a paper towel help keep them dry.
Because they do smell so strongly after they mature, it's a common practice in some countries to leave a few out in a bowl to freshen the air.
Once established, a quince tree will give you fruit for around 30 years and it takes about 3 to 4 years before your tree will start bearing fruit for you.
Leave a Response