How to Grow Cranberries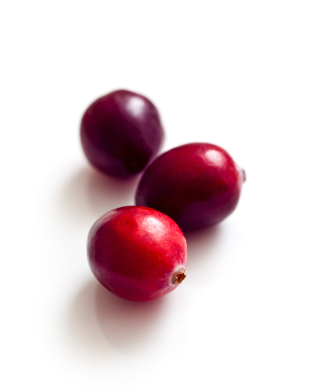 Pin It
Days to germination: Not usually grown from seed
Days to harvest: Depends on size of initial seedlings
Light requirements: Full sun
Water requirements: Frequent, but not excessive watering
Soil: Peat moss (see details below)
Container: Not ideal, but possible
Introduction
If you are looking for something a little different or maybe a fruit-growing challenge, consider trying to grow some cranberries. They are more common as a commercially-grown fruit crop, but there is no reason why an industrious home gardener can't grow their own. You'll need a cooler climate, from zone 5 to zone 2.
It can take a few years before a newly planted bed will give you any fruit, but they will continue to provide cranberries almost indefinitely if they are cared for. There are some commercial fields that have been bearing fruit for a century.
Contrary to popular understanding, cranberries aren't actually grown in flooded bogs or marshes. Cranberry fields are flooded to make harvesting easier (the berries float) but that is not how they grow all season long. And this is a method used for commercial growers, not your average home gardener.
The fruit is very tart and high in vitamin C and antioxidants. Cranberry juice is a well-known home remedy for urinary infections.
Transplanting
Cranberries are not really grown from seed, but you can buy cuttings or seedlings to start your berry field. The plants will start to produce fruit at around 3 years of age. So a year-old cutting will take some time to get started, whereas a 3-year old seedling will give you fruit almost immediately.
Your soil needs are going to be unique for cranberries, so most gardeners dig out a bed and replace it with the right mixture rather than try to amend their existing soil. Cranberries are quite particular about their soil, so don't feel you can skimp on this or try to make do with regular yard dirt.
Take out the existing topsoil in your cranberry bed (4 feet by 8 feet is an average size), to a depth of about 6 to 8 inches. Fill in your bed with peat moss, and then mix in about a half pound of bone meal, and a full pound of blood meal for nutrients. Wet the whole bed down well before you plan on putting in your seedlings.
If you are planting 1-year cuttings, they should be about a foot apart. Larger 3-year seedlings need closer to 3 feet between them. They will soon put out enough runners to fill your bed in.
Growing Instructions
For the first year, keep that bed constantly watered. You can't let the roots dry out. Don't let the images of flooded cranberry fields confuse you. Keep your plants wet, but you do not need to keep the bed soaked.
Cranberries don't compete well either, so take extra time to weed the bed completely. The peat moss soil will help keep out many common garden weeds.
Your plants will put out runners, much like strawberries do, to create new plants throughout your prepared area. A bit of wooden edging might help to keep them contained. Once the runners are nicely rooted and established, they will grow "uprights" and that is where you will get flowers and fruit.
To get a really productive bed, you want to encourage runners for the first year with high-nitrogen fertilizer. But by the second or third year, you want all those runners to start making uprights, so cut off the nitrogen completely. During the second year, you should also add a thin layer of sand (about 1/2 inch) over the peat moss.
As the years go by, you can keep your bed in good shape by pruning the long runners back. You should never cut the uprights, only the runners.
Containers
Cranberries really grow best when left to spread their runners out over a bed in the garden. But you can grow small plants in pots, as long as you control their spread. One plant in a large pot filled with peat moss should be fine. Trim the runners if they get out of the container, but let any inside the pot take root for more uprights. Use low-nitrogen fertilizer to limit the extra runners.
You may need to replace your plants periodically. In a garden bed, the runners constantly replace the older uprights, making the bed self-sustaining. This usually won't happen in a small container.
Pests and Diseases
Cranberry fruitworm is a common problem, so keep an eye on your plants so you can keep them from ruining too many berries. You might notice them first as gray moths on your plants in the spring. These adults are laying eggs in your cranberries. If you catch them now, spray the plants with an insecticide. Otherwise, their eggs will hatch, and the worms will eat your berries from the inside out. Chewed berries will turn red before they are ripe, giving you a clear signal of the problem. Pluck off the berries and check for worms. Dispose of all the ones you find right away.
Bright red spots on the leaves is probably red leaf spot. The fungus will eventually cause the infected leaves to drop off. Thankfully, it's easy enough to treat with a copper-based fungicide spray.
Harvest and Storage
If you started off with 3-year seedlings, you might even get some berries during the first fall after planting. Younger cuttings will take a year or two before you see any harvest.
You really should get your cranberry harvest picked before the frost hits in late fall. You'll know they are fully ripe when the berries are deep red, and the seed inside is brown.
You simply have to pick the berries by hand. There is no need to flood your cranberry patch.
Before winter sets in, you should put a heavy layer of mulch over your plants (extra pine needles, if you have them). You can uncover them in early spring, but they will need to be recovered any night you are expecting frost.
Cranberries can last longer than most berries, and will taste as good as fresh after 2 months in the fridge if you store them in a tightly sealed container. Once cooked, they can keep for a month in the fridge too. Dried cranberries are a treat that have a texture just like a raisin.
Leave a Response