How to Grow Amaranth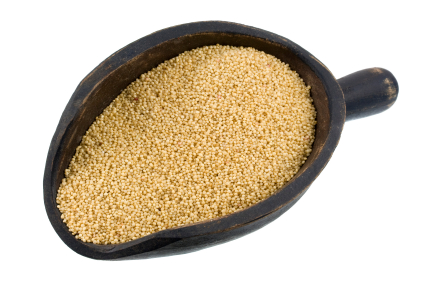 Pin It
Days to germination: 7 to 10 days
Days to harvest: 120 to 150 days
Light requirements: Full sun
Water requirements: Water only when dry
Soil: Rich and well-drained
Container: Not suitable
Introduction
Amaranth that is grown as a grain crop is related to but not the same as the smaller plant grown for its flowers. Taller grain amaranth does still have the same brilliant colors and flowers though.
It's not a kind of grass as most grains are, but amaranth is grouped together with the other grains anyway. Amaranth seeds are very high in protein, and its a very high-quality protein closer to what you find in soybeans. Unlike other grain plants, amaranth is quite attractive and blooms in shades of red, burgundy, and purple before the cascading spikes of flowers go to seed. The seeds are the grain that you will be harvesting.
Amaranth can be cooked in various ways, either mixed in dishes or just served by itself like you might do with rice. You can also grind amaranth for a gluten-free flour that makes great pasta. Aside from the protein, amaranth is also high in fiber, iron and phosphorus.
Starting from Seed
Amaranth plants can easily top 5 feet in height and they are fairly bushy. Make sure you plant it where there is lots of space.
You will want to sow your seeds several weeks after the last frost, when the soil has warmed up to at least 65F. Amaranth will not germinate in cold soil, and the seeds may rot if you plant much sooner.
Because it is a much larger plant than other grains, you should not just broadcast seed over your field. The plants will be too crowded. Instead, plant in rows like you would with a crop like corn.
Seeds should be only a quarter inch under the soil, and each plant should be around 10 to 16 inches apart. You can either sow seeds to that spacing, or thin later on once they sprout. The leaves are edible, so you can add the thinnings to a salad rather than waste them.
Growing Instructions
Amaranth is a relatively maintenance-free plant to grow, though you do need to tend to your seedlings for the first several weeks. Its a very slow growing plant and it can be overcome by weeds since you are planting a little late in the season. A thorough cultivating before planting can help kill off the weeds but once the seeds are sown, you'll have to pull up weed by hand.
New seedlings are actually quite drought-tolerant, so don't feel you need to rush out and water your tender new plants.  Once your amaranth seedlings have a few true leaves, you can water them when the weather is dry.
Containers
The kind of amaranth grown for grain will not grow well in containers, not to mention that you will need at least 6 to 12 plants just to produce a meaningful harvest. If you see seeds or seedlings for smaller amaranth plants, they are likely the floral ornamental kinds and will not produce any edible seeds.
Pests and Diseases
Diseases are seldom a problem with Amaranth, so all you need to worry about are the bugs.
The tarnished plant bug and the amaranth weevil are two that can be a real pest with this crop. The plants bugs will congregate around the growing seed heads and by sucking the fluid from the plant, can stunt the seed production. The weevils are a 2-stage threat with the larvae chewing on the roots and the adults going after the leaves. Both can be controlled with insecticide sprays.
Harvest and Storage
For an additional harvest benefit, you can pick some of the leaves from your plants when young and use them just like spinach. They're packed with vitamins like calcium, iron and folate. Don't over-pick though or your later seed crop will suffer for it.
Since amaranth will keep on flowering right up until the first hard frosts, it's not always easy to tell when there are ripe seeds to harvest. If you shake the flower heads and seeds start to fall out, they are ready. It's typical to harvest after the first frost.
There are many ways to harvest amaranth seed, and you will have to choose the method that best suits you. For small quantities, you can simply shake each plant over a large bucket to catch the loose seeds. This method make take a little longer to do, but then you don't have as much chaff and debris to sort out later. Only the very dry seeds will come out this way, so do a second harvest a week or so later to catch any remaining seeds that weren't ready the first time.
For larger crops of amaranth, you can cut the seed heads off each plant and store them in large paper bags. Leave them someplace well ventilated to make sure all the seeds have completely dried. Then you can knock all the seeds out at once. They should come loose easily, so its not necessary to completely crush the seed heads. Unlike grains like wheat or oats, amaranth doesn't really need to be threshed in order to free the seeds. Its one of the reasons it's becoming a popular grain to grow for home gardeners.
Regardless of exactly how you collect the seeds, you will want to clean out any broken stalks or debris. Even if you are very careful, there will always be a few bits of leaves or dirt in with your grains. Using a fan or even just the wind, sift through your harvest high over a container and let the lighter pieces blow away while the heavier seeds fall into the bucket.
Yield will be approximately a pound of grain per dozen plants (roughly).
Amaranth is fairly high in fat, which means it can go rancid eventually. The best way to store it is in the fridge, in a tightly sealed container. Your grain will last up to 6 months when stored this way.
Leave a Response