Sunscald: White rot on the sides of my peppers
September 18th, 2016
I am learning a lot of new things gardening in a new state. Including something recently. I really like growing peppers, all kinds, I think they're relatively free from pests and diseases (especially hot ones) and we eat a lot of peppers. Bell peppers are one of the few vegetables neither kid complains about.
So I planted a lot of peppers this year, and they grew well, but I've had crap for yield, they keep rotting on the plant. They'll get this spot, and it'll be yellowish white, then it'll turn more white, and then it'll get bigger and bigger and bigger. It looked to me like some sort of fungal infection.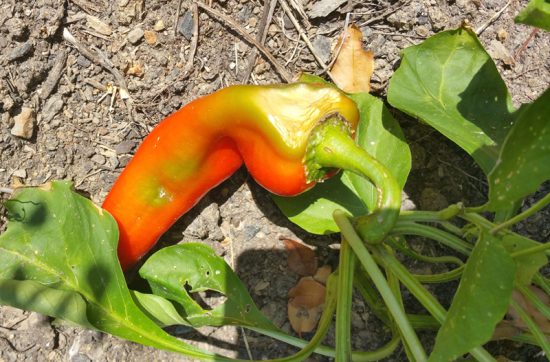 I finally looked it up, this isn't a pest or a disease, but the effects or heat and direct sunlight. In Michigan we always worried about peppers getting enough heat and sunlight, apparently here in Tennessee-almost-Georgia its the opposite. Too much heat and too much direct sun causes the flesh to simply get scalded away, and then it does become an avenue for infection, and the fruit rots. I was glad to find out the cause wasn't going to require fighting another infestation, but I'm not sure a good solution. The leaves need sun to develop large fruit, but the fruit needs to be as shaded as possible. Fruit socks anyone?
This also happens to tomatoes which explains why I had these whitish gashes on them as well. Although for those, since I basically make sauce with all my tomatoes, I just cut off the damaged portion and still used them.
It is probably extreme this year. Last year around this time it was far more rainy and cloudy down here. This year we're in the midst of a drought and rarely even have an overcast day, let alone rain. We've had one overcast day, the only one with rain, in the past 4 weeks. Lots of plants are dying, trees are dying, the drought stress is significant. I'm keeping my finger's crossed for rain tomorrow, it is in the forecast.
In the meantime I will water my peppers and maybe try moving them (many are in containers) to where they get morning sun but afternoon shade.
Leave a Response