Troy-Bilt Hand Tools Review
September 2nd, 2015
If I say "Troy Bilt" what do you think of? Power tools right? I know I immediately think of chipper shredders, but that is not all they make. They have recently expanded into hand tools for gardening, and lucky me they sent me some free ones to review.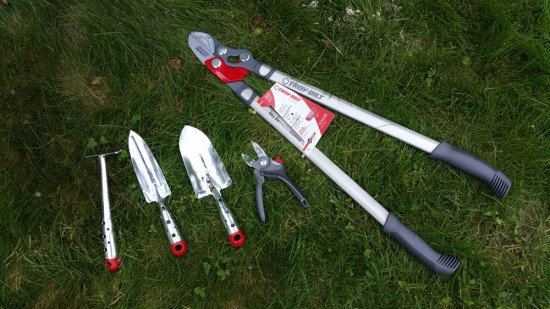 I definitely like the trowel. I can't count how many trowels I have bent or broken because of a lack of strength in the handle. This is one piece of steel, with a tubular handle, which provides excellent strength without additional weight. I'm always using towels perhaps to dig in too touch soil than I should, this one is the first I've had that could stand up to that.
Most trowels have the handle part attached to the shovel part with a welded or bolted on bar, this is not strong, even if it might have the same amount of weight or metal as Troy Bilt's design. Think about a piece of wood, a 1×4, if you lay it flat and try to bend it, you can easily do so, but instead put it on it's side and try to bend it, much harder, because in one direction you're bending a depth of nominally 1″, in the other direction you're bending a depth of nominally 4″. By making their handle a essentially a pipe, even if the same amount of metal is involved, you go from bending a third of an inch to an inch and a half, on any axis. Its physics, and it works, and it is an improvement.
In total I got two trowels and a little hand rake using this one piece design with a tubular handle, I'm sure all three will last near forever.
I also received some hand pruners, and these too I really like. They are very strudy, the metal tang of the handle goes all the way through so you do not feel as though they will break, they're sharp, they cut well, and they just feel substantial in your hands. My favorite feature is the thumb button though to lock and unlock them. Too however hand pruners put the lock between the two sides of the grip, this is poor design, as you cannot access the lock one handed, you either need to shift your grip or use your off hand to lock them. You may not think that is a big deal but if you're walking around doing a lot of pruning, being able to fetch, unlock, prune, lock, stow your pruners all one handed is a big help. It keeps your other hand free to hold what you're trying to cut.
Finally I got some loppers, which like the pruners feature this super hard high carbon steel blade. Like the other products, there are very plastic parts, they work very well, they feel substantial, the movement is precise, and they have the appearance of lasting a long time.
Am I thankful for getting free merchandise? Of course, always, but I'm only honest to a fault and wouldn't endorse something if it wasn't good. These tools legitimately are good. They might not be the cheapest out there (though neither are they that expensive) but nothing is so cheap as a tool you have to replace every year.
Leave a Response