Cleaning up the Garden for a new Season
April 16th, 2013
One of the tasks a gardener must do yearly, or more often, is clean up the garden. In the ornamental garden you'll have old dead perennials that must be cut down and dealt with to make room for the new season's growth.
In the past I've used a lawnmower for this, it can be hard getting it up into the bed, and it is an indiscriminate shredder, and it does go low to the ground sometimes impacting green foliage, but in the fall, before the snow blankets everything, it is a decent tool. It also finely chops up everything into mulch onto the bed itself.
In Spring I do not like it as much, simply because some things might already be growing. Also, I'm not sure it is good for the lawnmower itself to be attacking somewhat woody perennials.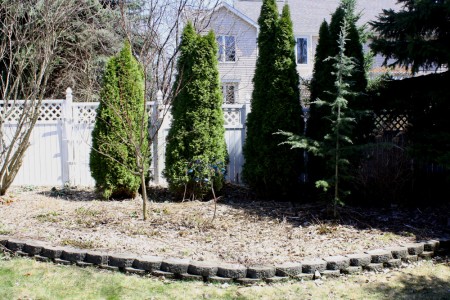 Right now, in my hard, almost nothing is happening. We've had such a cold Spring nothing really has started yet except crocuses, this time last year all the flowering trees had already flowered (and then had the flowers zapped by a frost) this year, nothing… which is good in the end I think, I'd rather have things flower late than flower early and be killed (I didn't get a single pear last year 🙁 ).
So, not much gardening to do, not much to blog about, but I did last weekend when it finally wasn't either snowing or raining clean up my back ornamental garden. There were lots of remnants of daisies and daylilies and lilies and rudbeckia and others that needed trimming, I didn't use my lawn mower though, I brought out my favorite weed chopping tool.
I call it a weed whacker, that is not the technical name for it though, I guess. The manufacturer calls it a serrated grass whip. To me it is such an invaluable tool, my parents had one growing up and we used it all the time to clear brush, but I couldn't find it at any local gardening stores and had to get it at Amazon.
It easily shreds anything left standing, and is great for cutting down remnants of the garden in either Fall or Spring. You can even cut down old ornamental grasses with it. Definitely a tool that should be in every gardener's shed. With the remnants, depending on length, once cut you can let them lie as they fall, to become mulch for the garden, or carry them off for composting if perhaps there is too much or the pieces are too large (such as the case with ornamental grass).
Leave a Response