How to Store Butternut and other Winter Squash
January 19th, 2013
I recently reorganized my pantry to make more room for canned goods. This left me with an issue in regards to my winter squash.
I can put up, maybe 30 a year in the fall with my current small city lot. I was putty them on shelves but they take up a lot of shelf space, and I would lose a few to rot. Also, as I eat them, the shelf space empties out, but I can't put anything long term there, and organized it, because the space the squash use is variable and changes constantly. I couldn't put in a can rack, I'd have to expand it as I ate the squash and then remove it entirely next fall and find someone else for the goods. It wasn't very efficient.
I think I hit upon an ideal solution for storing this vegetable. Nylon mesh bags hung from rafters in my basement. I merely put eye bolts through my rafters, then filled up a nylon mesh bag (used to store athletic equipment in my case) and hung it from the eye bolt with a carabiner.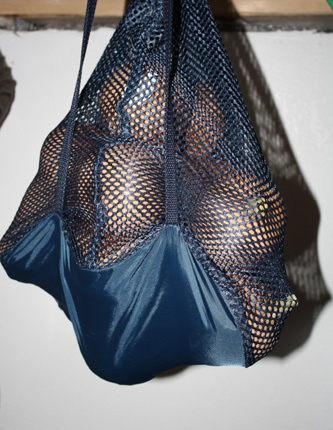 Great airflow around it, easy to take up or put down as I need more space and the bag (which I hope one day are bags as I get more land to grow more) folds up to almost nothing for storage when not in use, and it doesn't take up any shelf space. I bought a bag to use, if you had really strong produce bags you might be able to use them but 10 or so squash weigh a lot, and you wouldn't want it to break and fall. They make small nylon mesh bags, and ones big enough to hold like 10 basketballs. I went with a medium size one, I didn't want too big because of the weight issue.
In a perfect world I'd put up around 52 squash a year, so I can make risotto once per week, perhaps 104 when my kids get older and eat more. I think this bag system would more than easily handle it, of course I don't have the land to grow that much yet, but when I do I'll have more house to hang them up in as well. It would probably work for sweet potatoes too. Basements typically are also slightly cooler so they will aid in preservation and properly stored you can see winter squash last a full year. For curing they could be hunt up elsewhere in a warmer area such as a southern window, outdoors, in a greenhouse, by a fireplace, etc. for a couple weeks before being transitioned to a basement for long term storage.
Leave a Response