Do Not Buy a Plastic Greenhouse
February 25th, 2012
In 2010 I blogged about a new little greenhouse I had bought covered in plastic. I bought it at Lowes and was pretty happy with it, it allowed me to start seeds early outdoors (I have problems indoors due to a lack of a south facing window, kids, and cats).
I gave it a pretty good recommendation, I hereby rescind that. In 2011 during the summer, one year old, I noticed the plastic had started to fail at the top. I even kept it in the shade most of the time. By now the plastic is all but gone on top, so much for holding in heat and moisture eh.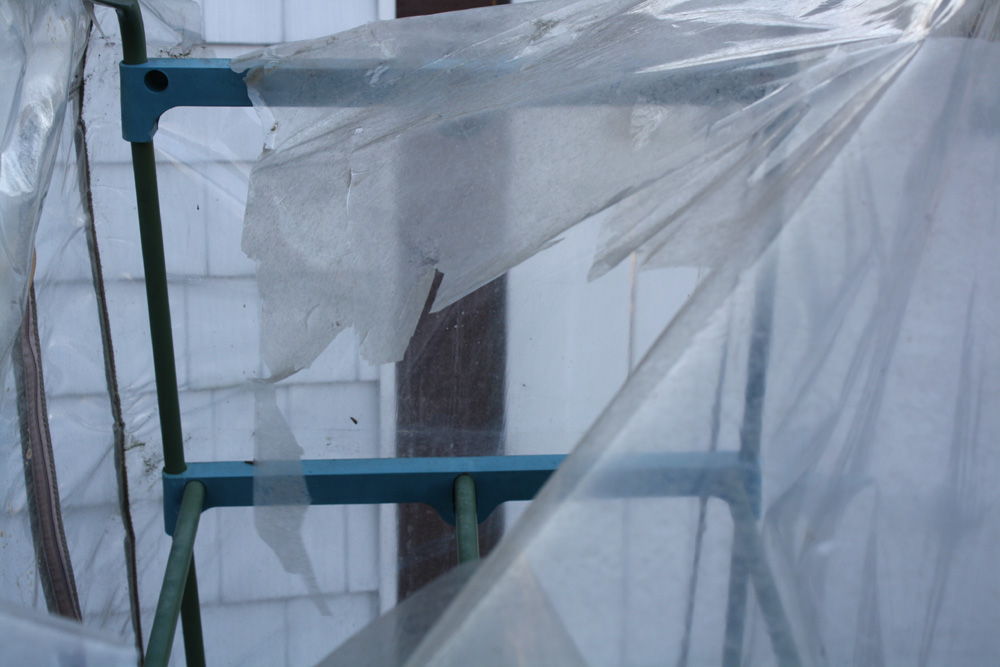 You know how we're told that plastic takes decades to rot in a landfill? Maybe so, buried and deprived of light and oxygen, but exposed it sure degrades pretty fast.
So now all I have is a flimsy top heavy stand with flimsy trays, perhaps still useful, but not very.
Plexiglass might be strong enough for a greenhouse, but that is probably the only plastic I would ever consider for such an application again, I'm afraid in the future I won't waste my money on things not made of actual glass. Glass doesn't have to be expensive either, sure, new stuff could be, but you can often find old windows on Craigslist or elsewhere, they can be repurposed into small green houses or cold frames. Not just windows either, old storm doors, sliding doors, shower doors. Reuse and recycle.
Leave a Response