Rogue Climber
June 17th, 2011
I awoke to a disappointing sight the other day, some fiend had meandered through my front yard, pooping, and eating leaves off plants. This would be bad enough, but what is worse, it tried to climb up my honeycrisp apple tree, and then I assume out onto the two lowest scaffold branches, and it broke both of them. So now my tree is permanently mutilated. You can't replace primary branches easily or quickly.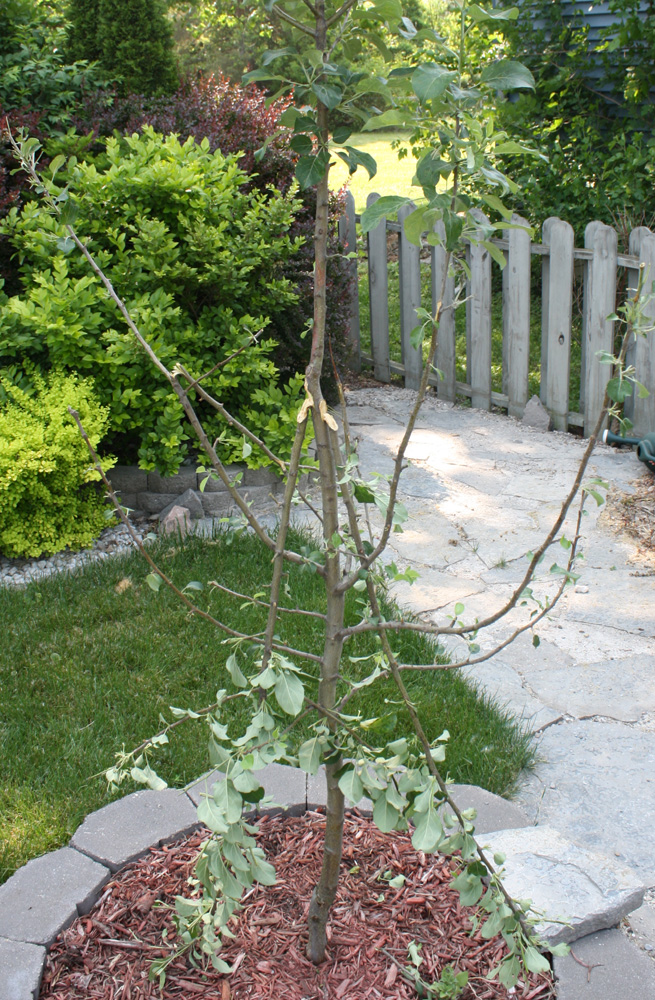 I can tell where the creature, undoubtedly a groundhog I'm sure, entered my yard. It ate the leaves off a new paw paw tree I had just planted. Then ate the top growth off my single small boysenberry plant. Waltzed across the driveway, ate 3 or 4 small petunias I had just planted, ate all the small leaves off the lowest branches of my yellow delicious apple tree, ditto on my honeycrisp apple tree, which it then climbed to destroy my primary branches. Then it continued to eat the tops off some hardy hibiscus, and finally off to the neighbor's yard.
It figures too. I had just critter-proofed my back yard. Nothing bigger than a squirrel can get in the entire backyard now (not unless it can climb a 6 foot privacy fence). I had to do it because every once in awhile a skunk will wander in, and my toddler son has no idea that a skunk is not a dog or a cat and would probaby run at it waving and screaming and that is not something I wanted to deal with. Not that I needed much arm twisting to do so, having dealt with groundhog damage over the years. But, now they're hitting my front yard, the devious rodents.
So, I learned a lesson. I normally leave limbs on trees as much as possible, to provide more leaves, and thus more energy for growth. But I immediately went out and pruned off all the small lowest branches on my dwarf apple trees. On the honeycrisp the critter had used these small lowest branches as a ladder to reach the higher and thicker (and far more important) primary branches, which it then tried to climb to the end of, until the branch snapped. Then the stupid thing went back and did it on the other side. The point being, without the ladder-like small lower branches, I don't think it could have reached so high.
So, from now on, I'll remove the option of climbing the tree. Now, hopefully, I just have to worry about them gnawing at the trunk.
Leave a Response