Weed Control & Dupont Lanscape Fabric
May 4th, 2011
Some times it is cool to be a garden blogger, because you get swag. Dupont sent me free samples of their "Weedfree Premium Lanscape Fabric" to review, not knowing I already used and loved the product, and have for years. Free stuff for me.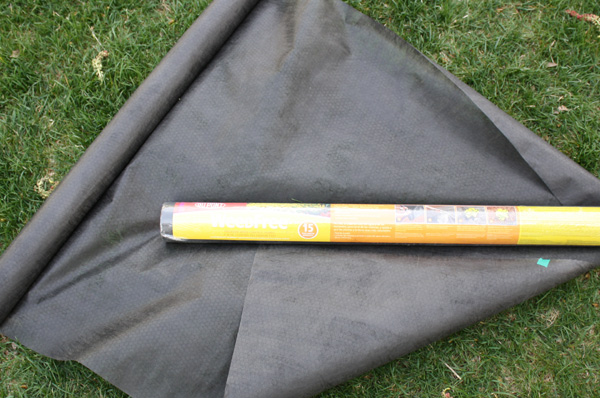 Free stuff for you too, they also gave me a $100 lowes gift card to give to someone who posts a useful comment to this post. I haven't decided if I will award it to the most useful comment, or to a random useful comment (it definitely won't go to a spammy comment). Of course, it'll only work for people in the US. A word on my comment policies, if I get the impression your comment was made just to try to get a link, I will not approve it. Also, I doubt your parents named you "Lawnmower Service Seattle" so don't put that as your name, it isn't your name.
Moving on…
I've actually written about this landscape fabric before, back in 2006 in my article on how to mulch your garden. Though I did not mention it by name, it is what I use. I have also used it in videos or articles on making raised beds. Such as this article on making a raised bed with retaining wall bricks or this video on doing almost the same thing, only instead making a island bed in the lawn. I buy it at Lowes usually. I also get the Landscape Fabric Staples that go with it, very helpful for securing it to the ground.
So, I fully recommend this product, and not just because they bribed me with freebies, I really have used it for years. But it isn't appropriate for everything. It is more expensive, but also far better, than black plastic (which you should NEVER use because it will decompose fast, and is not permeable) or cheap landscape fabric (which can fall apart). If you put down fabric, then put down 2 tons of pebbles, then come back in a few years to find weeds, you aren't going to want to remove the pebbles, sort, fix the liner, and replace. You put this type of product somewhere you want to never have to touch again, so you don't want to skimp on durability.
But, as I said, it isn't appropriate for everything. If you put this under wood mulch, the wood mulch will eventually decompose, it will turn into soil, that soil will then allow weeds to grow ABOVE the fabric. There is no weed free solution for a mulch liner if you're using an organic mulch that can decompose. The fabric literally lasts for decades, it lasts far longer than the wood chips you may put on top of it. So it does become an issue.
Use this under rubber, glass, stone, or other such inorganic mulches only. You also use it, as I did in the above video, to line the inside of raised beds to keep soil from leeching out, and you can use it as a liner under brick or cobblestone pathways.
I do not recommend using a durable landscape fabric in beds with perennials or other plants you will dig, divide, move, or harvest often (so no veggie beds either). This is for permanent or semi permanent plantings only. It is not for use with plants that spread, or that may be dug and divided regularly. It will get in the way in those circumstances.
For such perennial beds, or beds with wood mulch, I recommend newspaper and corrugated cardboard as underlayments, these are not permanent, of course, but the price is right and they last long enough to kill any existing weeds, then they decompose and add to the soil, so they aren't in your way when you need to move something.
For permanent beds, with shrubs, trees, etc, or even maybe some perennials like peonies that don't move or spread much, you can use this kind of liner, with an inorganic mulch please, like stone or pebbles. I find this is really good for foundation plantings up against your house, where you should not be using wood mulches anyways, to help protect your home from various pests.
You can also use it (though I don't) as a mulch itself, put it on the soil, put nothing on top of it. Not the prettiest picture, but if you have a large veggie garden it may make sense between the rows.
Use it any place you put stone down really. I have this rental and the previous owner used a stone mulch in front but did NOT put a liner down. So over the years the stones mixed with the soil, destroying the effectiveness of the stone as a mulch, while making it a huge pain to dig or plant anything new in the area since it is now the world's most rocky soil. Had he used a liner, I would have merely needed to peel back the liner.
Please feel free to share any tips you have for working with this product in the comments, or for weed control in general, and by mid May I will have devised a way on how to reward the Lowes gift card.
Leave a Response