Not Gardening
April 19th, 2011
It has been a long time since I've posted anything, I didn't want people to think this blog is abandoned or anything, but, by nature, gardening blogs are largely seasonal. I'm not so lucky to live in Florida where I can garden year round, or near enough as makes no difference.
I haven't been able to do much gardening this year. We had really cold weather, then in mid March a surprise warm up, short lived, but it was enough to get my first blooms up, crocuses. March 17th. In 2010 these exact crocuses were also my first flower of the year, on March 16th. The previous year the first flower was one day earlier yet again, March 15th, though a different clump. Obviously the world is getting colder or something. That is eerily consistent.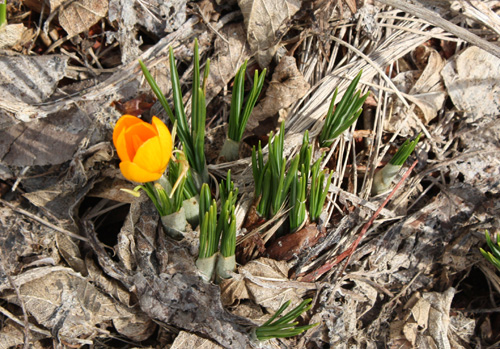 Since that brief warm up it has been more cold, more, ran, more cold. Yesterday we had snow, and not a light snow, heavy, significant snow. Snow on April 18th. What is more, no tulips, no daffodils, no irises, not even close. A little hyacinth action I've seen but even the forsythia's have only a minor yellow shade to their buds as of yet. We're way behind so far.
Last year was a really horrible summer here. June was all cold and overcast and too much rain and not enough sun, July was okay, but then August was too much sun and not enough rain. We got a late start, again because of cold, and in fact I got no yield on my kiwi or my apricot because of a late frost zapping buds, grape yield was also almost nil. Now I fear it again as we again have a very cold Spring thus far. Though I hope things will change and we'll get warmer than normal temperatures now, as a recompense.
However I cannot help thinking about coins. One might flip a coin 10 times and have it come up heads all 10 times and think to oneself that number 11 must come up tails, because it is due. But in fact statistically the chance of toss 11 being tails is the exact same as the chance of toss 1 being tails. The coin itself has no memory and cares not for any streak it may be on. So I fear it may be with the weather. I think we may be due some good weather, but I don't know if mother nature cares about what we deserve.
So, I've done very little gardening, nothing really to write about, a little pruning mostly. I did do more limbing up of a spruce to free up a massive amount of square footage in my backyard, allowing for a larger deck and room for a playhouse for my kids. The spruce had provided some privacy though so I planted some "Green Giants" along the fence to eventually take over the screening job the spruce had been doing. I also planted a cute little weeping larch (like a weeping atlas cedar for northern climes, hardy to zone 3, but with green needles in contrast to blue on the atlas), I had ordered online when I thought the weather was turning (I was wrong, so now it has needle scorch – having been shipped to me from a warmer climate).
I haven't even started any seeds, because doing so outside would be futile because of the weather, and doing so inside would be almost futile due to the kids and cats.
But I am still here, as is this blog, and I will find things to post about when we finally get some better weather.
Leave a Response