Selling my Favorite Daylily
August 19th, 2010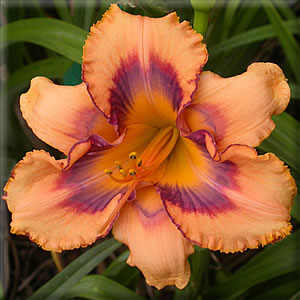 "Purple Maze" is my favorite daylily bloom, I saw it, I had to buy it, I paid a lot of money for it. I bought it when it first came available directly from the hybridizer, I think I paid $200. Kind of embarassing really, but I really like it. Apparently others do too, I've seen many people say it is their favorite daylily.
I recently had to move and divide it and I have 1 extra fan (the others I planted elsewhere on my property). So I'm selling it. I just listed it on ebay. So if you're interested, head over there.
This has got to be one of my favorite reasons for growing perennials. Multiplication. Just dividing plants alone can provide you with some payback down the years, or the ability to trade, to gift, or to just expand your garden for free. Then if you do a little cutting or seed based propagation you can get even more.
I wanted to do a border of "When my Sweetheart Returns" Daylily, I bought one plant at $25. As it grew I divided it again and again, very aggressively, and now I have about 20 small clumps, which is what I needed for my border.
Leave a Response