Kudos to Stark Bros
March 31st, 2009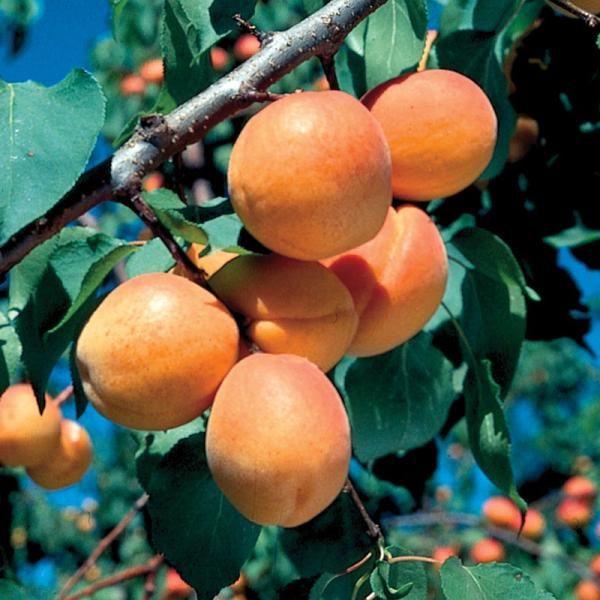 My first plant of the year has arrived, a 'Goldcot' Apricot Dwarf from Stark Bros, and I need to sing their praises.
I've talked up Stark Bros before, mentioning them as my favorite place to get fruit trees, but they beat themselves in quality this time. This dwarf apricot was around 4 feet tall, and nicely branched already. Considering it is a dwarf, that is a really nice size to get. The branching is important as well. Often you'll get trees that aren't much more than a trunk, and since fruit comes off tertiary branches that typically means three years of growth. With primary branches already perfectly in place (this is what I mean by nicely branched, Stark's employees perfectly pruned the branches to create well spaced and angled primary scaffolds), it could fruit sooner. The yield won't be large, but it'll be something.
The tree also had really nice sized roots, and judging by the condition, it looks as if the tree had been dug and the soil washed off mere hours before delivery, obviously, thats not possible, but it looked so good I'm sure that almost no time passed between when they dug it at their nursery and when they had it sent out. This is important. Some places might dig weeks before sending, which can really hurt a plant (or kill it), so Stark's seemingly super-quick time is a huge benefit.
If you need a specialty fruit tree, I highly recommend Stark's as a place to shop.
Now, about the tree. Apricots are one fruit that really really benefits from allowing to ripen on the tree. They are picked, pretty immaturely, to be shipped to supermarkets because once ripe they have very little shelf life. By growing your own you can let them ripen and get a much superior fruit (actually, most fruit benefits from this IMO). I picked a dwarf variety because I didn't want a big tree, I picked the 'Goldcot' one because it was bred here in Michigan so I knew it could take the winter. I also got the tree for my wife (yes, by the way, I am a man, I saw myself quoted on another blog today and I was referred to as "she"), I think apricots are alright, but she really loves them, and I'm a good husband, so I bought her a tree.
I also turned the process of planting into a how-to tutorial: How to Plant a Bareroot Tree.
Leave a Response