Something to Grow: Black Currants
January 14th, 2008
I was just reading an article about black currants and my interest was piqued. I am really into nutrition and apparently black currants have twice the antioxidants of blueberries, double the vitamin C of oranges, and double the potassium of bananas, among other health virtues.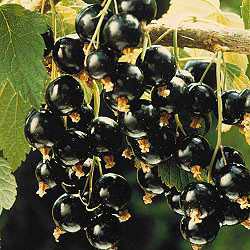 But you cannot buy them in the store, even if you think you can. The currants most stores have listed, and indeed the currants most recipes call for, are a type of dried small Italian grape (so-called "zante currants"). The reason you cannot buy them is that they were illegal to grow for many many years in the US (big business in Europe though). Apparently it was thought that they acted as a surrogate for a disease that affected the white pine lumber industry and so to protect that industry they were banned. They are only now just recently making it back. So, if you can't buy them, what choice do you have but to grow them?
They are also apparently very productive, producing a large amount of fruit per acre (or bush, I'm sure none of us are going to grow acres) , which means you get more value, in real dollar terms, from growing them than growing other things.
Though apparently they don't taste good raw, you need to cook them and sweeten them first. I do hear however that they make really good jams and jellies, as well as sauces for meat, or even wine.
They're hardy in zones 4-7, making them excellent for most of the continental US, especially places where you cannot grow citrus (the other way to get large amounts of vitamin C).
I think I might just get a bush. I've searched online and the only place I can find them presently is Gurney's, and they're sold out right now.
Leave a Response