Gardening Catalogue Deluge; What to Plant?
January 6th, 2008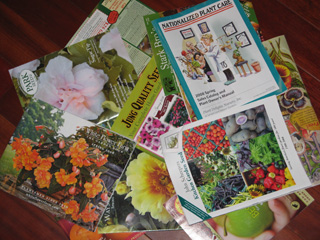 Apparently all the nurseries have a conspiracy to bury us gardeners in catalogues starting the week after Christmas. I don't get why, but apparently we all must start thinking about what we want to plant as soon as we're done taking down our Christmas tree. In the past week and a half I have gotten probably on average 2 catalogues per day.
Though true, I am thinking about what I am going to plant this next year.
I do not have a lot of remaining room to plant anything, last year I made a whole new bed and so gained probably another 500 sq/ft of space for planting and got to buy a whole bunch of new plants, but I don't have any more room for any more new beds and so I don't think that'll be happening again this year. Well, okay, there is one spot I might be able to put a bed if my wife let me, but I think I'd wait until 2009 to do that just to give her a little time to recover.
So I have to be very very selective with what I buy, I only have a few spots left. One thing I know I'm going to buy is another 'Caramel' heuchera from Wayside Gardens. I bought 16 last year to make a little hedge border and they look nice. But one that got more sun than the others died (these were marketed as sun loving heucheras, obviously they're not, but since I do have 15 of them now and need to fill a gap I will buy one again despite the mismarketing). I also like their new 'Tiramisu' heuchera which I may get to plant underneath a red japanese maple, hoping the golden/yellow leaves will offset the japanese maple and make it pop. Currently I've got some heucherellas underneath it but they're not as yellow as I'd like, more lime-green.
I also saw this picture of 'Beni-kazi' Japanese forest grass in a magazine and I find it very attractive. I do not know if I have a good spot for it yet, but I plan to think hard about it. The coloring is just so nicely unique. I would like to hear from anyone who grows it, please comment if you do.
Mostly though, I'm thinking about planting edibles.
We eat a lot of blueberries for health reasons, to the point where I buy pounds of frozen ones at a time. I've tried growing them in the past, but they've been hard for me. I think I over-acidified my soil in preparation and they didn't grow well. Then the second winter the rabbits got them. Since the rabbits didn't eat them the first winter I didn't protect them the second winter. But, we do eat so much blueberries, I think I will try again. I have to dig up the bed anyways because one of my brick walls around it settled and is now uneven.
Really though, the one plant I am looking forward to growing, and the one plant I recommend all of you grow, is sweet corn. Now, hear me out. No, you don't need a lot of space to grow corn. I am not asking you to grow a field of corn, I am asking you to grow one or two stalks, whatever you have room for. As I say in this post veggies can be ornamentals too and there is no reason why you can't put 1 stalk of corn in a flower bed as a bit of vertical interest.
However, when I choose which vegetables to grow I have two main criteria. What will be cost effective to grow, ie which foods are expensive to buy, and which foods offer a nice improvement over store bought when you grow your own. See, food sold in stores is often grown for disease resistance, or shipability, but not flavor. So food you grow at home can very easy taste better, it isn't just psychological either.
Corn, happens to fit both those bills. If you've never had fresh picked sweet corn you don't know what you're missing. Corn starts converting sugar to starch the second it is picked. Some foods ripen after picking, some foods however never are as sweet as they can be unless you grow them yourself, let them ripen on the plant until just perfect, and then eat immediately. Apricots are a good example with bland grocery store ones paling compared to home grown ones that are allowed to ripen on the tree, and corn is the same way. Some corn fanatics in fact will start the water boiling before picking the corn, seriously.
Corn is also becoming more and more expensive thanks to (perhaps misguided) the corn ethanol craze. Making ethanol from corn is a really inefficient use of resources, corn requires water, fertilizer, lots of labor and equipment, and you only get a net gain of something like 30% (energy in, energy out). Switchgrass ethanol, in comparison, grows without much water or fertilizer and gives a net gain of something like 800%. But the corn lobby has convinced the goverment to subsidize corn ethanol, which increases prices for almost all food, other veggies because less of them are being planted in favor of corn, most meats because corn is fed to cattle and as the fed price increases, so does the cost of raising cattle, and, most of all, corn itself. As the value of ethanol corn increases, sweet corn becomes marginalized and more expensive. So while it has traditionally been seen as cheap, this next year corn is expected to be ridiculously expensive.
So, I will be planting corn this year, maybe as much as 4 stalks, afterall I do not have much room. I recommend you do the same. You'll get yourself a treat with the best corn you've ever tasted, and you'll save some money at the grocery store.
Leave a Response