Brewing Compost Tea on the Cheap
November 1st, 2007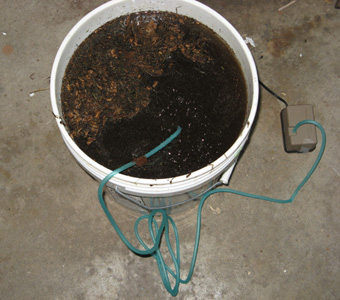 "Wow, a picture of a bucket in a garage, nice blog you run Chris."
In all seriousness, this is my compost tea brewing system. It isn't pretty, but it only cost me about $15, $5 if you discount things I already had.
Compost tea is a great product. What it is is compost seeped in water and oxygenated. Two things happen, the nutrients are extracted and the microbes multiply. Compost Tea can then be used as a fertilizer, soil conditioner, foliar feeder, and disease or pest repellent.
You pour it directly on plant leaves to feed them, this works the same way as Miracle Grow, the plants will absorb the fertilizer through the leaves quickly and so respond quickly.
Also, the microbes within the tea are good microbes, by placing them on the leaves you leave less space for bad microbes, resulting is better disease protection. I've heard that it is especially useful against powdery mildew.
If you pour it on soil the nutrients will still work, just slower through the plant's roots, and the microbes will help condition the soil. Remember healthy soil is living soil and if your soil is dead from too much synthetic fertilizer, chemical spills, salt, or whatever, getting the beneficial microbes reestablished will help any plants planted in the area.
You cannot burn plants with compost tea, so don't worry about applying it too thickly or too often. Twice a year is alright, but a couple times a month if you have the energy would be great.
So, how do you make compost tea? Well, you can buy really expensive brewing machines that produce large amounts of compost tea. You can also buy little 1 time use tea bags to soak in water. But there is a cheaper way.
Get 1 5 gallon bucket, you probably already own one, just make sure it wasn't used to store any chemicals. Get 1 aquarium pump, you also may already have 1 of these, if not, any store that sells fish will have one. Get some aquarium pump tubing, and a air stone diffuser (thing that makes bubbles at the end of the tube). Then get compost from your bin, tumbler, or pile.
Put the compost in the bucket (or, for easier cleanup, put the compost in some old nylons, tie off the end, and then put it in the bucket), fill the bucket with water, put the stone (attached to the air hose) into the bucket. Let it run for 24 hours, in the sun if you can, or in your garage. You have compost tea. Strain it with an old strainer, toss the solids in the garden, and use a watering can to feed the plants.
This same concept can be used on a larger scale with a rain barrel and larger scale pumps such as those for ponds or larger aquariums.
You can also use something like a paint filtering bag, nylons, or other such things to put the compost in so you do not have to strain it afterwards.
I'm brewing some tonight for a fall feeding, I'll focus mostly on my roses and a few plants that are less than healthy. Then some spots in my lawn that I think might be having some fungal problems.
Now there are products out there, additives and activators and things to add into the compost tea. I don't buy them as a concept. The point with using compost tea is to use something natural that you can make yourself, even if the additives you buy are all natural, they're still manufactured, shipped all over the country, packaged, etc. You might as well buy Miracle Grow if you're going to buy all that stuff. Keep the compost tea simple: Compost, water, oxygen.
Two tips: 1, if you have city water put the air hose in the bucket for around 10 minutes before adding compost to try to get rid of some of the chlorine. 2, if you compost tea smells bad, it is bad, start fresh and try again.
Leave a Response