Other uses for garden planters
August 3rd, 2007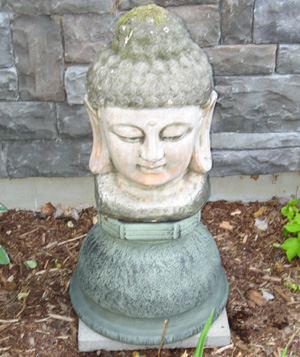 Containers are fun, I particularly like large ones, they add crucial structural elements to your garden, and allow you to microtarget a specific plant's needs.
You don't need to stop with plants though to find use for them. A container without a draining hole can make a small fountain with the addition of an inexpensive pump. Or, an upside down container can make a good pedestal for something else. Often what you'll see people do is buy two identical containers and place one upside down and the other on top right side up so it makes a sort of hourglass shaped column.
So what prompts this post? Well I was at Lowes and saw this greenish hued pot, which very closely (compared to any other pot I've ever seen) matched this greenish asian head I had. The head was just sitting on the ground, which was alright but raising it would be better. So I bought the pot, and now it is a pedestal.
When I got home I realized they weren't exactly the same color… but perhaps after the pot gets weathered some it will match better.
Leave a Response