My New Tanyosho Pine
August 3rd, 2007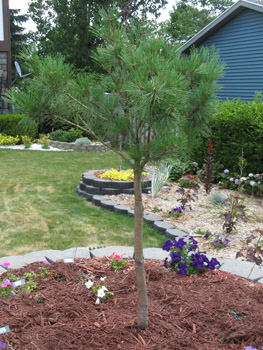 I went to Rome in June, read all about it here. I fell in love with the beautiful stone pines that dotted the landscape. They are a very graceful pine with no understory branches and an upside down pyramid flat-top upperstory. Unfortunately they are not hardy where I live in Michigan.
Well, a few weeks ago I went to Lowes and I saw this solitary pine sitting off all by itself in the middle of some potted annuals (not even in the tree section). It looked exactly like one of those Italian pines, except it was only 4 feet tall.
It was a Japanese Tanyosho Pine (Pinus densiflora "Umbraculifera" ), a dwarf form of the Japanese Red Pine, it is also often called an umbrella pine or a tabletop pine. It is hardy to zone 3 (score for z5 me). It likes full sun, grows slowly to 15′ x 15′ and can be trained to be more of a bushy shrub with multiple trunks, or with 1 trunk (what I'm going to do). Apparently the bark eventually becomes a very interesting peeling red shade.
I got an excellent deal that day at Lowes, lots of things were on sale and I'm not sure if the tree was, but the cashier game me a 55% discount on it (so only paid $17), he also happened to give me a yellowish maiden grass for $3 instead of $15. I would have paid much more for this tree, I'm really glad I found it. It may be Japanese, but it'll always remind me of Rome.
Leave a Response