Barberry, a great shrub for the landscape
June 10th, 2007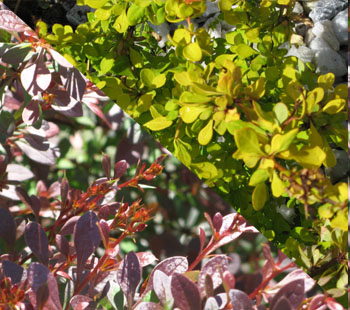 There is something to be said about barberries. They do not have beautiful flowers. Their scent can be bad. Their foliage, though nice, is beat by other plants. And yet I find myself thinking of them as one of the best bushes for the landscape.
The reasons? Sheer growability. Japanese Barberry (Berberis thunbergii) are hardy to zone 4, can take sun or shade, wet or dry, and will come back strong after a beating. We had one growing up along our foundation when we had new siding put on. Because of the thorns I needed to remove it so the workers could do their thing. I cut it down, and since I was too lazy to dig it up (it was quite mature) I just attacked it's root ball with an axe and left it covered with debris. It was stepped on and worked on for months… and the plant came back and grew to 4 feet the next year. Any plant that can take that kind of abuse cannot be all bad.
Critters also will not eat barberry. It has been used as a herbal medicine and apparently it has a very bitter taste. I know it's yellowish wood certainly does not look appetizing. So it is either from the taste, or the aforementioned spikes, but deer & rabbits leave it alone, and I mean that. I know in many gardening catalogues I'll read "Deer tend to avoid." and think its BS because I've seen deer eat that shrub before, but if anything is truly critter resistant, barberry is.
Most barberry you will find in nurseries and garden centers will be of the burgundy variety, and thats great. It is important to use contrasting colors in garden design and Barberries are a great reddish plant to use. However, there exists a newer variety that has yellow tinged foliage (pictured, along with a red variety). This variety is harder to find but with both a red and a yellow barberry you have all sorts of planting options available to you.
If there is one bad thing about barberries it is that they are deciduous, no winter interest except for a few small berries that the birds quickly eat. Though maybe further south some variety stay everygreen I hear.
So, they aren't really standouts in any particular category, but they can be grown more or less by everyone, in almost any location, and can provide 2 nice non-green foliage colors to liven up your landscape. All that together makes them a great choice for your yard. My only word of advice would be to not plant them too close to paths or windows. Paths because of the thorns, and windows because their flowers are a little pungent (though you have to get really close to smell them).
Leave a Response