Beware the Chocolate Mulch
May 12th, 2007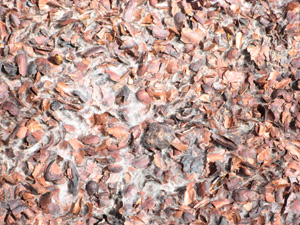 It sounds good on paper. Cocoa bean husks used as mulch, get use out of a waste product, smells nice as you walk by. I've seen this mentioned on websites and on TV shows. But I have never seen it in a store.
This Spring through I saw a bunch of bags at Meijer and decided to try one. It does smell like chocolate, unfortunately its almost useless as a mulch.
One week outside with a few days of rain and it turned into a clotted moldy mass with the consistency of a brownie. I'm not adverse to seeing various types of fungus showing up on mulch, its just doing it's thing turning it into compost. This mold though, it was a sickly bluish white color, looked more and smelled more like bread mold or other mold you find on something lost in the back of your refridgerator. Plus, it only took a week to get like that. Usually it takes a full year for wood mulch to get clumpy like that. So I had to pick it all up and compost it, didn't seem like a great thing to be growing basil in, plus I also noticed atleast one critter was getting into it.
So, be warned, cocoa bean husk mulch is a bad idea.
Leave a Response