Get a Gardening Hat
April 30th, 2007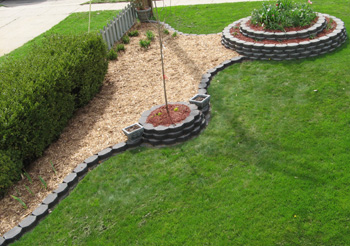 2 weekends ago it was amazing. We finally kicked the cold weather problem and had 2 days of beautiful, warm, dry, weather. I did a lot. I installed a new garden bed with around 150 large retaining wall bricks. I went through around 100 bags of dirt and 100 bags of mulch doing that and other things in my yard. In the picture the new part of the bed is everything that attaches the central raised island bed (which we did a few years ago) to the side fence.
I also installed two Fieldstone raised beds from Gardeners.com for my asparagus. I decided that after putting in so much work doing the nice brick bed, I'd save myself some time (if not money 🙁 ) and do a quick and easy plastic/faux-stone bed. I plan on writing a more elaborate review on the Fieldstone raised bed product at a later date.
However, what really happened is I got a horrible sunburn on the back of my neck. I guess it never occured to me to put on protection because I figured the sun wasn't quite overhead enough being only April.
I immediately went on ebay and looked for a gardening hat. I have a large head, and I don't think I look that great in a hat, plus I worry about being hot, but I decided I really needed to do something about it. Sunburns are bad, skin cancer is bad, looking dorky in a hat isn't a big deal in comparison.
So, consider this post a reminder, protect yourself from the sun when you're outside.
Leave a Response