Pruning a Pear Tree
April 6th, 2007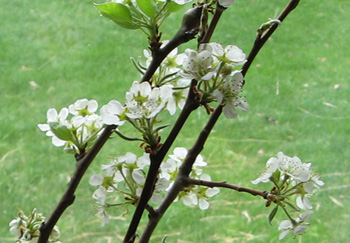 Last week when I was doing my spring gardening tasks one of the things I did was prune my pear tree. I figured this would be a fine time to review how you are supposed to prune trees.
First of all you are supposed to prune deciduous trees in very early Spring when their buds begin to swell but before the buds break. Then you'll want to overall create a pleasing form with your tree and either emphasize a central leader (most pear trees use a central leader), or a series of 4 main scaffold branches coming off a short trunk.
You'll want to prune away dead wood. Any branches that are crossing each other. Branches that grow down, or straight up. Branches that grow out of the main trunk at too wide of an angle, or too narrow of an angle. Finally you'll want to remove interior growth to promote good airflow. All of thise you do for the tree's health. Branches too close to the trunk can trap moisture and promote rot, branches too wide of an angle from the trunk can end up weak. Branches that rub together or touch can wound the bark and invite infection. Airflow prevents fungal diseases, etc.
Then, if what you're pruning is a flowering tree or shrub, you can take the branches inside, put them in water, and you'll get some interior flowers in as little as a few days, what you see in the picture are prunings from my pear tree in a jar of water in one of my windows.
Leave a Response