How to Propagate Iceplant
February 4th, 2006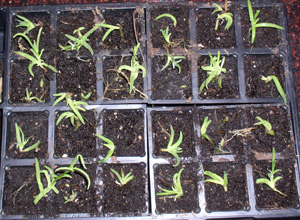 Iceplant is by far my favorite ground cover. It is hardy, quick growing, has attractive foliage, is drought tolerant, and pest and disease free. It also looks like a carpet of blossoms for most of the summer.
I plan on writing a very extensive post about iceplant in the future, once mine are back in bloom and I can get nice pictures, but until then I thought I'd cover propagation techniques… because that is what I'm doing now.
Iceplant is extremely easy to propagate, you just take cuttings (and because it is so quick growing the plant won't mind) and stick the cuttings in soil, that is it. Now some people say that iceplant doesn't like moist soil, that it'll rot. This has not been my experience. Everyone says it prefers well drained or rocky soil (in fact this plant is considered invasive in California where it is taking over some rocky/sandy coastlines), but I haven't seen any rot yet.
Anyways I decided to tear out one type of iceplant and replace it with another, both of which I already have growing in my garden. The problem is that I decided this around Christmas and if I were to wait for spring to make cuttings I would have smaller plants this year (and I want them to overflow their area) and if I were to buy them, I'd be paying $3-$6 per plant, which is a lot when I need 20 or so.
So in mid January, when the snow had melted, I went out and found still alive Iceplant, I tore up large sections of these frigid plants, and brought them inside. Once inside I made my cuttings, basically looking for pieces with nice bits of stem and smaller leaves (large leaves I tore off). Then I got a cheapo seed starting tray as you see in the picture, filled it with potting mix, stuck the plants in, watered heavy, slapped on a clear plastic cover, stuck it in a big east facing window, and waited. Two weeks later 70% of my cuttings had rooted, I had not watered it or even touched it since (thanks to the cover) and just now I went out and made more cuttings to fill in the empty spots. These plants have been in very wet soil for two weeks and are doing fine by the way.
I could have used rooting hormone as well… but with iceplant rooting so easily what's the point? If it had been warm outside I could have also just stuck my cuttings right into my garden where I want them to grow. Do this, water every day for a couple weeks, and most of your cuttings will sprout, even in normal garden soil. Its that easy.
So, if you ever want more iceplant (and if you keep reading this blog you likely will, as I'll probably rave about them lot), don't buy them, just make cuttings, its easy. In fact, its so easy, that if any of you readers want a free starter iceplant, I'll make a cutting and send you one, just pay for shipping.
Leave a Response