A Label! A Label! My Kingdom for a Label!
January 29th, 2006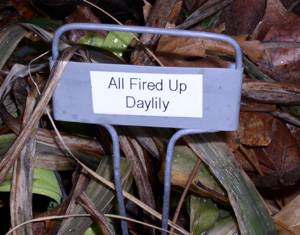 I view garden labels as a necessity. I like to know the names of things, because I know one day I'll want to move something, or dig it up, give it away, or maybe even sell it… none of which will be easy if I don't know the name of the plant. If you have a relatively small garden you may not need labels, but gardens can quickly grow to include hundreds or thousands of different plants, try memorizing that list. It is especially hard to remember plant names and planting locations when you have a grouping of similar plants. For instance I might have two dozen different daylily cultivars within the same bed, and when they are not in bloom each plant looks nearly identical, in this bed the labels are a savior. Also, in addition to marking varieties, labels are useful for letting you know where buried bulbs are so you do not inadvertantly dig them up.
When I first searched for garden markers I was dismayed at the selection available. The ones I saw in gardening catalogues came only in packs of 10 and were quite expensive, like over $1 per marker. When you're going to be buying a couple hundred that just doesn't work. Many were also too short, they would be buried by foliage. Marking techniques ranged from etching on copper, which would last forever but drain my wallet, or drawing with a permanent market on a meta or plastic tag.
None of these solutions were ideal to me, but I finally found what I consider to be a perfect labeling system.
The first step is ebay, I found these zinc coated metal plant markers sold in packs of 100 for what amounts to 33 cents per label. I've had them in the ground over 2 years now and they haven't rusted.
The plant markers were perfect, cheap, decently tall, and in bulk. But how would I mark them? So called "permanent" markers only lasted a couple months. Luckily someone on a forum gave me a tip, a tip that works wonderfully.
I needed to get a Brother P-Touch 1500PC Labeling System. This thing interfaces directly with your PC and prints clear concise labels. For labeling tape I recommend their TZ line, black on white. This is laminated tape, so the actual text is actually secured behind a plastic coating (ultra-weather proof). My labels have been outside for 2 Michigan winters now and they have not faded and they have not peeled off the metal markers. They are also easy to read, even from a distance.
If you're the type of gardener who wants a 100% natural setting, this probably isn't for you, but if you value knowing the names and locations of your plants, I have to strongly recommend my own setup as a good one to try.
Leave a Response