Asters or Mums for Fall Color?
January 14th, 2006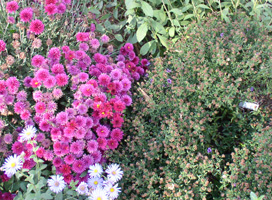 I bought two plants from Lowes in 6 inch pots in the fall of 2004. One was labeled Beth, a mum (short for chrysanthemum). The other was Wood's Purple an aster. Both asters and mums are daisy-like flowers known for their fall color, meaning they bloom in the fall when others are not blooming.
Over the course of the next year both plants, which I planted in the ground (many keep mums in containers) grew rapidly and expanded to 2 foot wide mounds. However, when it came time for blooms, they were no longer neck and neck. The mum started blooming atleast 2 weeks before the aster and continued blooming for atleast 2 weeks after. In the picture above you'll see the mum on the left, still going strong, and the aster on the right, with all but a few blooms spent. There is also another aster at the bottom, called Wonder of Staffa, but I'll talk about that one in another post.
Now sure, when the aster was in bloom the blooms were nice, but who wants a plant that is only going to be blooming for such a short period of time? Especially when a mum blooms at the same time, and blooms for longer? Also considering some mums will rebloom later in the fall?
No… I cannot recommend asters for fall color. Come spring I'll be composting that plant. Its mums for me.
Leave a Response