Bonkers over Buddleia
December 22nd, 2005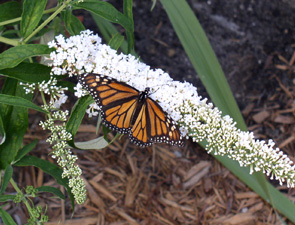 I have 3 buddleias, also known as the Butterfly Bush, in my backyard and they're really nice. I don't find them that attractive, and they get somewhat overgrown, but they attract butterflies like mad. At some times of the day it's not uncommon to find 4 or 5 large butterflies on a single plant, and the small ones are too numerous to count.
The picture above is of a white buddleia I bought last year at Lowes for $2.50 on fall clearance. These plants are absolutely ugly when potted and so I've found that nurseries that stock them typically have them left over at the end of the year. I normally wouldn't have bought white, Buddleia's come in many colors, Nanho Blue (which is lavender), Black Knight (which is dark purple), as well as yellows, shades of red, and even a bi-color variety. However white was all they had left and I couldn't pass up the deal.
This summer the plant grew to atleast 8 feet tall, as you can see from the not-quite-fully-grown picture on the right. A $2.50 two gallon plant grew to over 8 feet tall during the first growing season I owned it, I call that a steal. It got so big in fact that it has now been moved to more roomy pastures. Overall Buddleias can quickly grow into huge bushes or hedges. An 8 ft diameter planting area is a good idea for one you want to reach it's full size. They only bloom and and leaf out on new growth, so most people cut them down to the ground each winter. However I have seen people let them develop trunks and allow the flowers and foliage to start higher up, and I think this method of growing them looks pleasing. I also like how this method would let you plant a smaller accent plant around it's base, because left to it's own devices a buddleia will drape the ground around it preventing anything else from growing.
One more side bonus of buddleias is that they attract beneficial insects like bees by the bucketload as well, insects like bees help keep the bad bugs away.
Plant your butterfly bushes in full sun, with plenty of water, and nice rich soil. They are hardy to zone 5, though some varieties claim hardiness to zone 4.
Leave a Response