Damage from a Polar Vortex Winter
June 1st, 2014
The coldest winter in decades, what damage did it do to the garden? Well, so far, I don't know I lost any plants, nothing actually died, though a few I'm wondering about.
I'm not sure if it was the cold or something else, but my pear tree barely flowered, my honeycrisp apple tree didn't flower at all (sadface) and my golden delicious apple tree barely flowered. It wasn't like two years ago, where we had an early warm up, flowers, and then a hard cold snap right during the flowering stage and mine, and 90% of Michigan's, apple crop was destroyed. This year we had a cold Spring, but once it did warm up, it stayed warm, the plants simply did not flower. I suppose that the extra, long lasting (months without a day above freezing) cold damaged the flower buds over the winter. So that is really disappointing.
All of my roses, all of my roses, even by "sub zero" roses, and my climbing rose which has never had dieback, died back to the ground and are sending up new canes. The grafted ones look like the new canes are still above the graft but I'm not 100% sure.
Many of my evergreens showed winter burn. This essentially comes from dehydration and is caused by a combination of cold, long term cold, wind & sun exposure. My cedrus deodara Karl Fuchs, which is only supposedly marginally hardy here in Michigan, survived, with some internal dieback/winter burn (needle loss) on the middle lower area, but it is already putting on new growth so, after a generationally cold winter, surviving, I say it will survive in Michigan. Of course I also have it tucked in by a large spruce protecting it from drying winter winds/sun.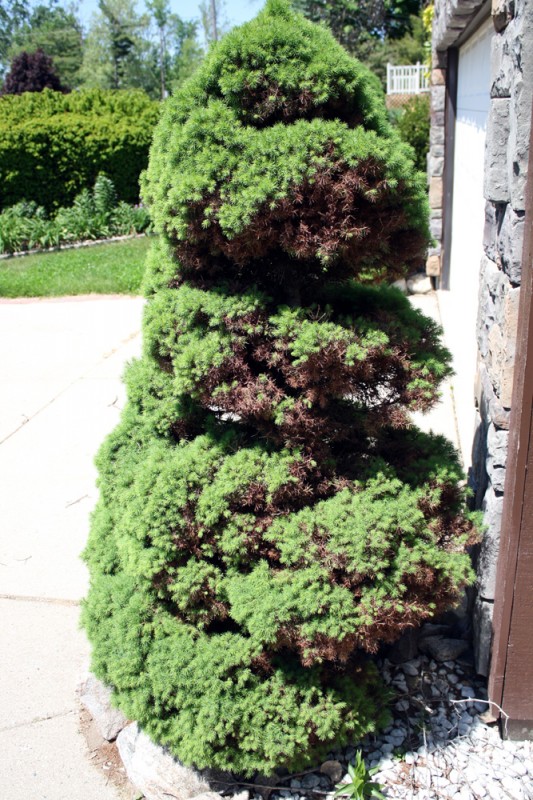 My dwarf Alberta spruces, I say that again, dwarf Alberta spruces, had significant winter burn, they are on a western exposure so did get a lot of drying winter sun, but I thought they would do better than this. They are already putting on new growth though.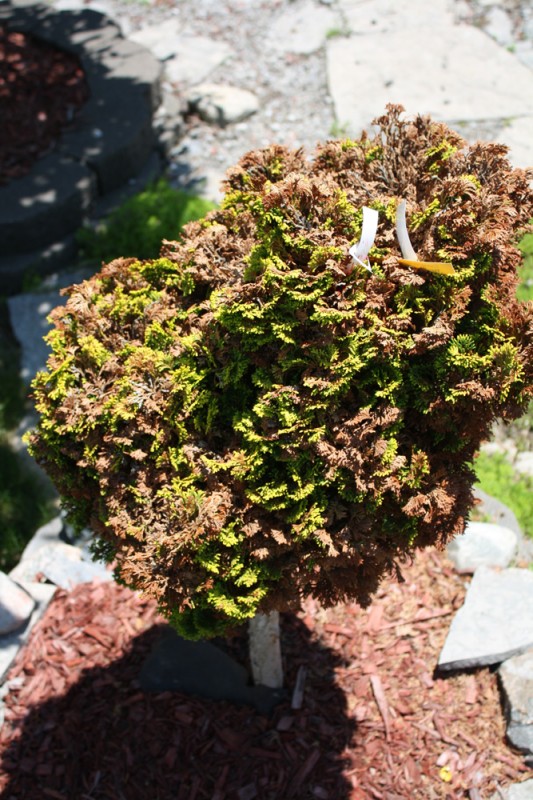 My dwarf, standard form, yellow dwarf hinoki cypress, also had significant winter burn and die back – I am not quite sure if this tree will make it yet or not, it grows so so so slowly I don't know if it has any new growth on it or not yet.
My three deciduous conifers all are doing fine. I have a weeping larch (definitely hardy) a bald cypress (a southern tree I'm really pushing the hardiness on) and a metasequoia 'Gold Rush' which I'm also really pushing the hardiness on. All are doing fine, but regenerating needles yearly means they aren't at risk of winter burn, but I had no dead limbs or anything either. I can say that it seems to me metasequoia 'Gold Rush' is hardier than the species form of that tree, as I know of a planting where both were planted and the species form was killed one winter before.
My weeping red japanese maple, also at the northern limit of its hardiness, is fine as well.
In summary, I have a good excuse to clean out the rose garden, my fruit production is going to be very low this year (which is the worst part), but it looks like none of my trees or other plants actually died, which considering I am aggressive with my zoning is pretty good I think. Of course, a lot of them are looking kind of ratty and will need a good season of growth to look good again.
Leave a Response