A Pruning Tool for Every Job
December 16th, 2010
It has been awhile since I've blogged, but the end of the gardening season (due to earlier than normal harsh cold weather) and a new baby will do that to you.
When I was getting my garden ready for fall I had to do some pruning and cutting back of various plants and it occurred to me that I had a lot of tools for the job, each with a slightly different purpose. I thought I should do a blog post about them, explaining why I own each, and what they're used for. Maybe it is not too late for Christmas to get some gift ideas from this list.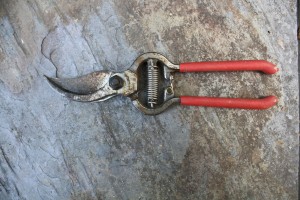 These are the old standby universal pruners. They work by having a blade pass by an anvil or stop. They produce clean cuts better than hammer pruners which can crush the ends. They can wear out though and require maintenance every once in awhile, I tend to just buy new ones, though I feel bad when I do it. These are best used for small tasks like deadheading roses, or cutting unwanted dahlia blooms. You can also use them for harvesting some vegetables like grapes or squash.
I actually prefer a different style though for my bypass pruners. I like the Fiskar's powergear style, much more power available. I apparently forgot to take a picture of my set, so I'm borrowing from Amazon. Mine also has a titanium blade, and they are my favorite pruners for all small tasks.
---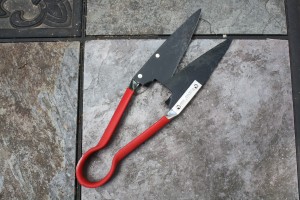 Yes, seriously, sheep shears. These open and close very fast, far faster than spring loaded bypass pruners. They are excellent when doing many small cuts like for topiary, or for harvesting small vegetables like beans. I also use them to trim back the new growth on some ivy when it gets to where I don't want it. They don't have the power to trim more rigid or thick things, but for fast cutting of small things, they are a great tool.

---
Offset Pruning Scissors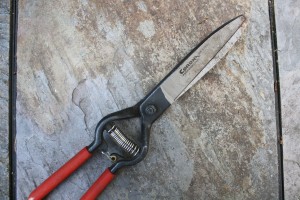 I'm unsure where I bought these, but they are offset pruning scissors, kind of like a cross between the sheep shears and the bypass pruners above. I use them a lot when I need to cut something out in the garden, like a plant tie, but they can also be used when you want to do a topiary and need something that will produce an even, flat, surface. I also use them sometimes for harvesting. Though, they're not as easy to use one handed as the sheep shears.

---
These are a must for pruning anything that is too big for hand pruners. Like 3 inch tree branches for instance. It takes some elbow grease but the large saw teeth make short work of most woods, then the saw folds up for easy carrying, in your pocket even. The saw also happens to cut drywall passably well (if not neatly).

---
When you're doing large hedges, this is the standby pruner to use. The larger handles also allow you to get more leverage allowing you to sever thicker branches without resorting to a saw like above. They also come in handy when you need to prune back something hard, like say growth at the end of the season for something you prune back every year like a butterfly bush. I also use it to help remove daylily scapes in late fall. Finally, with plants that need to be pinched back like mums or some sedums, I will just lop off the top inch of all the stems with this tool to save time. Next to a good pair of bypass pruners, this is the second most important tool for your pruning arsenal.
---
This is the tool that has no substitute. Sometimes a step ladder isn't enough and you need to get really high. If you're on the ground you can prune branches as high as 20 feet, if you're on a hill, a ladder, or a roof, you can get even higher. This tool has a lever action lopper on one side to cut 1 inch (or so) branches, and a pull action saw on the other. I've cut branches as wide as 8 feet thick with this saw, it was a super intense shoulder workout, but I got it done. If you have trees, owning one of these is far cheaper than hiring a tree guy.
---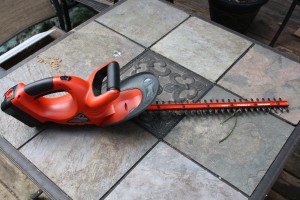 Now the power tools. This is your standard battery operated hedge trimmer. I like the battery operated ones because cords are annoying, and so is gasoline. Sure it needs battery replacement, and I don't always have the power to do my entire yard at once (assuming I even want to) but the battery lasts for say a good 30 minutes of cutting, and because I own multiple items in the Black and Decker line I have multiple interchangable batteries, so I can make sure one is always charging. You can use this item for pretty much anything you'd use your hedge sheers for, this just takes less muscle and is faster, and the longer cutting blade allows you to more easily to straight/flat cuts on large hedges.
---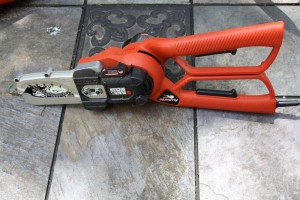 Chainsaws are incredibly dangerous, every year thousands of people seriously hurt themselves. The Black and Decker Alligator Chainsaw makes it safer with the mouth design and blade guards. Unfortunately I don't really like this tool. The one I have is corded, which is annoying, very annoying. The chain also falls off the track constantly for me. I don't know if it is my fault in improper usage or bad design, but it takes at least 5 minutes to put it back on, making this tool a labor to use. I would almost always rather use a handsaw. So I rarely use this. I'm sure if it was battery operated and the blade would stay put I would use it far more often. There is a battery operated one available.
Leave a Response