How to Grow Fennel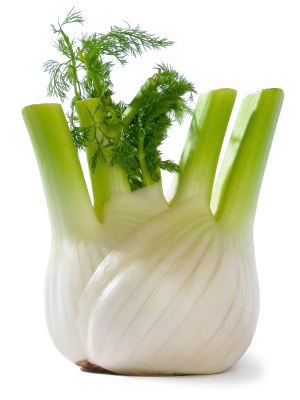 Pin It
Days to germination: 7 to 14 days
Days to harvest: 80 to 90 days
Light requirements: Full sun
Water requirements: Regular watering
Soil: Loose and well-drained soil
Container: Not ideal for container gardening, but possible
Introduction
Fennel is a multi-purpose plant for your garden that will provide you with aromatic seeds for seasoning as well as a thick bulb for a vegetable. You can even eat the thicker stalks, like celery. The fine leaves can be snipped off and also used as an herb. The seeds have a licorice-like flavor very similar to anise, as do the other parts of the plant (those not as strongly as the seeds).
Fennel bulb is a popular ingredient in Mediterranean cuisine, and it can be eaten raw, grilled, or baked.
Though the plant can produce seeds as well as vegetable, you can't get both from each individual plant. You have to harvest the bulb before the plant goes to seed. So if you want to use your fennel for all its uses, you'll need to grow a few plants to take advantage of its versatility.
The plant is a perennial that can survive winters between growing zones 5 and 10. Some varieties of common fennel will not produce the fat bulb, so if you intend to harvest that as well you should plant Florence fennel.
The fennel bulb is high in vitamin C, and is also a good source of calcium, fiber and potassium.
Starting from Seed
Fennel doesn't transplant well, so you can just sow your seeds straight out into the garden in the late spring after the frost threat has passed. Since your plants will come back each year, plan for a somewhat permanent location for your fennel.
Before you plant, dig the soil to loosen it up and add some compost for extra nutrients. For heavy or clay soils, add in some sand for extra drainage.
Seeds only need to be lightly covered by soil (perhaps and 1/8 of an inch), and should be kept frequently watered until they sprout their first few leaves. Space your seeds out around 10 inches apart. You might want to plant a few more than you need, and thin them down after they have sprouted.
If you are also growing dill in your garden, you must keep it as far from your fennel as possible if you plan on harvesting the fennel seeds. Fennel and dill will cross-pollinate and you will end up with very bland and odd-tasting seeds. Same applies for any coriander plants.
Growing Instructions
The bulb of the fennel plant grows at the base of the stalks, but not underground. Once the plant starts to develop the bulb, hill up the soil around it so that the sun doesn't turn it green. This is called "blanching" and similar to the techniques used for growing celery. It keeps the bulb white and sweeter-tasting.
Once the bulbs are growing, water your fennel frequently so they don't dry out. That's if your intention is to harvest the bulb. If you are just after the seeds, then it is less important. Dry weather will encourage the plant to go to seed. This will ruin the bulb but is necessary for a seed harvest.
Give your fennel patch a fertilizer feeding each year in the spring with a standard fertilizer formula, or an addition of fresh compost.
Containers
As a perennial, fennel will become a fairly large plant with a very deep root system and is not ideal for containers. But with a large pot, you can keep potted fennel successfully. It should have a depth of at least 12 inches, but a 5 gallon pot would be a better option.
If you plant more than one plant in a pot that size, they will still grow and produce seeds but they will be too crowded to develop the vegetable bulb. This may work fine if you are only interested in the seeds anyway.
Fill it with light soil, with an extra layer of stone or gravel for added drainage. Fennel likes water, but not soggy roots.
Pests and Diseases
Fennel is not particularly at risk from many insect pests or diseases. You might sometimes find aphids or small whiteflies on the leaves, but they are seldom a serious problem. A spray or two of pyrethrin-based insecticidal soap will usually keep them under control.
The worst problem with fennel is root rot, which will damage your plants if you let them sit with wet roots for too long. Their soil should be light and well-drained, and you shouldn't over-water the plants.
Harvest and Storage
You can start to harvest the leaves once your plants have become established and are growing well. Only take a few each time so you don't harm the plant.
The bulb is harvested once it gets to the size of a small tennis ball. If you leave it to grow larger, the plant will likely bolt to seed and the taste of the bulb will almost immediately become bitter. Slice the plant off at the base of the bulb, right at the soil line. The bulb can survive a frost or two, so there needn't be any rush to harvest your fennel when the cold weather arrives.
Harvesting fennel seeds is done in the fall when the flowers have turned brown, and they should be left to dry on the plant. Be careful when you go to collect the seeds as they come loose very easily. A bag or bowl under each flower is a good idea so none are lost.
Because fennels seeds very easily and the seeds will spread, you should try to collect all the seeds even if you don't actually need them all. Otherwise, you will have fennel growing all over your yard come next spring.
Fennel bulbs should be stored in the fridge and used within a few days for the best flavor and texture. You can freeze it for longer storage, though it will lose a lot of taste when thawed out. Seeds can be kept in an air-tight container for 6 months or more as long as they are well dried.
Leave a Response