White Clover Lawn
June 23rd, 2012
What if I told you there was a way to have a greener lawn, that needed less water, less fertilizer, attracted beneficial insects, and yes, it would be greener? Would you believe me? You should. White clover is the answer to this riddle.
A white clover planted lawn is sometimes called an ecolawn, you simply overseed or co-seed white clover with your grass. White clover is one of those magical plants that form a symbiotic relationship with nitrogen fixing bacteria, which means it is able to take nitrogen from the atmosphere and place it into the soil which in turn fertilizes plants. A lawn that fertilizes itself, what a good idea!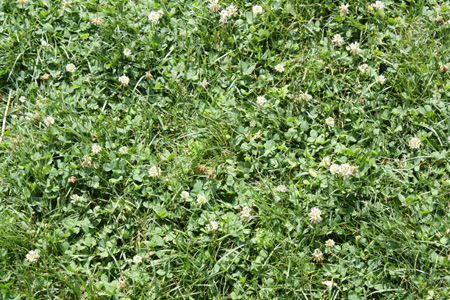 White clover also establishes a deeper root system that typical grasses allowing it to better deal with heat and droughts, staying green even when nearby grass gets brown. The green of white clover closely matches that of most grasses allowing it to blend in almost seamlessly.
White clover will flower, and at times in summer you'll have white blossoms rise slightly above the foliage, still pretty low. These flowers can attract and feed honey bees, which will happily also pollinate your crops and fruits. They can also attract parasitic wasps, the kind of wasps that eat aphids, not the kind that stings people. If you really dislike the white flowers, you can mow them, but I say keep them.
White clover can take foot traffic and mowing, though it grows lower than what your mower setting should be. It is soft underfoot and certainly does not hurt to walk barefoot on. It may also shade the soil better, thus stopping weeds.
Yes… weeds… some people would call white clover a weed, while others plant it on purpose, and some manufacturers even include it in grass seed mixes. Manufacturers of herbicides will call it a weed, and kindly sell you a chemical to kill it. I won't say I've never used herbicides, I have, but they haven't killed my clover. However the manufacturers typically claim they will kill clover so if you do add clover to your lawn you should avoid using broad post-emergent herbicide sprays in the future. Instead use spot treatment sprays, or mechanical methods of weeding. Pre-emergent herbicides of course wouldn't affect it once it is already established.
Once planted your clover will crawl slowly over your lawn, expanding over a course of years. So you do not need to seed the whole lawn to eventually reach full coverage. It isn't really meant to replace grass entirely, though such a thing is possible, but rather to coexist, with blades of grass jutting up between the shamrocks of clover.
If you cannot find white clover seeds locally, Amazon.com has some available.
Leave a Response