Save Paul James, Gardening by the Yard Cancelled, HGTV == Bad
April 1st, 2009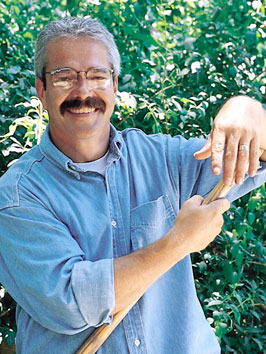 I'm angry.
Scripps Networks, owners of HGTV, are canning Gardening by the Yard and other gardening shows.
I want to swear and curse them out, I consider myself sailor quality in those activities, but this is a family blog so I'll leave it to your imagination.
HGTV has forgotten the second letter in their name. As chronicled here they've been dropping gardening content for years, and little of what they do have is more like, as the link above says, using plants as design elements rather than things to cultivate.
Now they're cancelling the one, one, educational gardening (as opposed to landscape design show) they have left. As you can read here they say.
They said gardening doesn't sell and only old people garden. Well, we may be a seasoned, thrifty bunch, but gardening is still the #1 hobby in America.
This is a lie. Young people are in to gardening at unprecedented levels nowadays because young people are into being green and gardening, especially things like growing your own food, is green. There are 25 year old homesteaders out there trying to grow all their own food, this is not an activity for just old people. And with the economic crisis this has only increased. If anything HGTV should have made this move 4 years ago when people where all just interested in flipping houses rather than working the land, but to do it now when the pendulum is swinging the other way is ridiculous.
I am only 28 years old, I've been gardening all my life and I garden with a passion. Even for the few years when I lived in an apartment I had a patio garden (from the ground our patio looked like a jungle). I am smart, successful, young, technologically hip, and a big time gardener, and I'm not alone. So to say Paul James doesn't appeal to young people is ridiculous. My youngest brother likes him too, he is only 20 and has been watching Paul James since he was probably 12.
I've learned so much from Paul. I would probably have not gotten more interested in dwarf conifers had it not been for him. I wouldn't know what the heck a blue atlas cedar was had I not seen that beautiful specimen in his yard so many times. Paul taught me all about soil and especially about compost, I probably saw my first compost tumbler on his show. I've learned about vegetables from him, I've learned about trees. I've learned how to put in a rock wall, and how to build a fountain. And the only times I got close to bored was when Paul wasn't on the screen.
Paul James is the Alton Brown of HGTV (or is Alton the Paul James of Food Network?). He is both entertaining and educational, a mix that is hard to find. He is the ultimate TV gardening personality (note to Paul though, this did not translate to your cooking show.). To say young people are not going to be interested in him as opposed to interested in a show where someone with a $30,000 a year income buys a $800,000 house? Or someone puts in a million dollar yard we can certainly all relate too? Please.
Is PBS going to be the only channel with gardening content? And what then, what do we have? Victory Garden which is slow and meandering and not nearly as entertaining (and invariably just about gardening on the coasts or at professional public gardens), or Smart Gardening which is so much filler content to fill 30 minutes? ("Today's Smart Gardening Tips, exactly the same as last weeks: Choose the Best Plants, Water Well, and Have Fun!")
If Paul James is cancelled he should get a show on Discovery Green. That channel is a little pretentious at times, and sometimes a little out of the mainstream, but I find myself watching it more and more. I think Paul would be a good fit there.
Either that, or, fulfill my dream of Paul, Alton Brown, and Les Stroud (Discovery's Survivorman) going off on adventures together trying to live off wild foragables. That would be an awesome show.
There is a protest being organized to help save the show, don't think it can't work. Fans of CBS' "Jericho" sent tons of nuts to CBS' offices and managed to save that show for another season. Scrubs was cancelled by NBC, and picked up by ABC, same thing happened with Buffy. It can happen, show your support. The protest campaign is here.
Oh, date aside, this is no joke.
Oh, and if anyone from HGTV reads this. Paul James is the youngest person you have on your network. Age is not appearance of grey hair, age is a state of mind. And tell me, who acts more like a kid than him?
Leave a Response