Perennial Lettuce?
April 8th, 2008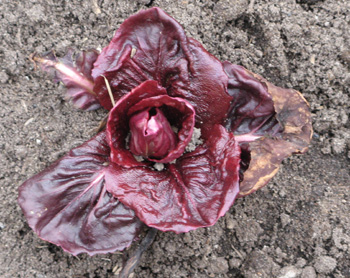 It has been so nice getting out and gardening this past week now that weather has finally warmed up. You do not realize how much joy, or the sense of peace, it gives you until you get to flip that switch from being stuck inside to being able to go out.
Anyways, in inspecting my raised veggie bed I noticed two of these little plants growing where I had planted a mesclun lettuce mix last year. Obviously this is some type of edible leafy green, though I do not know which. What I find really, really, really, odd though is that the raised bed was entirely barren of living plants (as it should be after a hard winter) except two of this type, both looking pretty good. Obviously it had gotten frost bit at one point, but all told, I'm impressed.
I always thought all leafy greens were annuals, or otherwise would not survive a cold Michigan winter. And yet… there is the picture. I transplanted it as well as I was adding a whole new layer of compost to the bed, and so I can attest it has a fairly well developed root ball, ie it isn't a recent sprout. It has to have been living atleast 3 or 4 months.
So, what do I have? And why is it doing so well? Does anyone know? It was a seed mix and I don't recall seeing many/any of these plants back last fall and summer when I was harvesting, but it may have been hidden down below. Also, it could be that a few seeds of something got tossed in with the rest of the mix. I'm really quite curious. If indeed there is a type of lettuce that can handle extreme temperatures and still look this good I might just plant more of it.
Leave a Response