An Easy Raised Bed
October 10th, 2006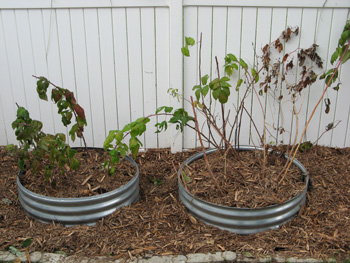 One problem with growing raspberries is that they tend to spread. Previously my solution for keeping them inboundes was to dig a trench on either side of my patch and line it with aluminum roof flashing & concrete. This was an okay solution but wasn't perfect.
Then I had an epiphany.
Small sections of culvert pipe like you see pictured are often sold for firepits. I got 2 at Tractor Supply, buried them 6-8 inches in the soil (a foot would have been better, but it wasn't the easiest place to dig), and filled them with soil. They aren't going to go anywhere filled like that, but for added stability I could drive rebar stakes around the inside edges. They are also deep enough that the raspberry runners aren't going to go underneath them.
You can also do a similar thing with old tires, the larger the better. Though if you stack 2 or more tires for added height you absolutely need to put in rebar stakes.
So now my raspberry patch is all cleaned up and nicely contained.
Leave a Response